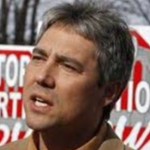 You may have heard by now that Troy Newman, leader of far-right anti-abortion group Operation Rescue, was denied a visa to go to Australia because of his advocacy of violence against those involved with helping women secure their reproductive rights. In response, Newman claims that he never advocated that abortion doctors be executed, but as Right Wing Watch points out, he has done so in absolutely clear statements with zero ambiguity. Operation Rescue says:

A pro-abortion Member of Parliament, Terri Butler, sent a spurious letter to Minister of Immigration Peter Dutton falsely accusing Newman of advocating the execution of abortion providers, which Dutton never bothered to fact-check.

Newman has never advocated violence against abortion providers or facilities and has instead adamantly encouraged pro-life activists to work through the legal, legislative, and justice systems to bring abortionists who are breaking the law and harming women to justice.
And here's what Newman said in his book The Blood Cries Out:
When moms, dads, abortionists are added together, well over 100,000,000 people bear personal bloodguilt for at least one abortion. The doctrine of community bloodguilt found in Scripture further implicates the entire nation. The perpetrators are far too numerous and the bloodguilt has spread too far. We deserve God's judgment.

In addition to our personal guilt in abortion, the United States government has abrogated its responsibility to properly deal with the blood-guilty. This responsibility rightly involves executing convicted murderers, including abortionists, for their crimes in order to expunge bloodguilt from the land and people. Instead, the act of abortion has been elevated to a "God-given right" and the abortionists canonized as saints. Consequently, the entire nation has the blood-red stain of the lives of the innocent upon its head…

The innocent blood of the New Covenant in Christ has the power to atone for all the innocent bloodshed from the beginning of time to the end, and to purify the whole earth — the land. Rejecting that innocent blood is to reject the only standard that is effective against innocent bloodshed, excluding the lawful execution of the murderers, which is commanded by God in Scripture.
Newman is lying. But he's lying for Jesus and the Holy Exalted Fetuses, so I'm sure that makes it okay.