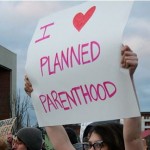 And we have yet another attack on a Planned Parenthood clinic in just the last couple months, in the wake of the release of doctored videos making people believe that PP is selling fetal body parts for profit. This time it was a juvenile armed with a hatchet who used it to destroy equipment at a clinic in Claremont, New Hampshire. The minor has been arrested.

A hatchet- wielding juvenile was arrested inside the city's Planned Parenthood office Wednesday morning, police said.

Police were conducting a building check of the Planned Parenthood office at 136 Pleasant St. in the early morning hours Wednesday when the juvenile was discovered…

"It became immediately obvious that the intruder had done significant damage to the facility," Scott said. "The intruder, a juvenile, was caught on scene and taken into custody. Seized at the same time was a hatchet and a can of spray paint."…

"Today's damage was particularly extensive including the use of a hatchet to destroy computers, furniture, plumbing fixtures, office equipment, medical equipment, phone lines, windows and walls. The flooding caused by this incident also impacted a business immediately adjacent to the Planned Parenthood office," Scott said.
This is the second attack this month on this clinic alone, along with other PP clinics being burned by arsonists in Washington and Southern California. All with very little coverage from the national media. And let's also note the massive hypocrisy of the Christian right on this. There has been one single violent attack against a Christian right organization, when a gunman attacked the Washington, DC headquarters of the Family Research Council and shot a guard before being subdued. The fact that he had viewed a map of hate groups put out by the Southern Poverty Law Center is continually cited by the Christian right to blame anyone who criticizes them for the act.
Yet we've had dozens of abortion clinic bombings, arsons and violent attacks, along with the murder of doctors, nurses and workers at those clinics over the years. But if you suggest that there is a connection between extremist anti-choice rhetoric and this decades-long pattern of violence, or between their demonization of gay people and the routine violence against them, you're obviously an anti-Christian bigot.