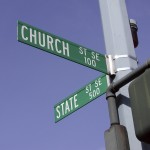 A couple weeks ago, when the Oklahoma state government finally complied with an order from the state supreme court and removed a Ten Commandments monument from the grounds, the geniuses in charge of Johnston County, OK, decided to take a stand for Jesus and put up their own monument at the court house. I said then that they'd get sued and lose and, voila, the ACLU has announced it will sue the county.
The American Civil Liberties Union announced it plans to file a lawsuit against the Ten Commandments statue at the Johnston County Court House Friday morning.

The monument appeared on the courthouse lawn just one day after a similar statue was removed from the State Capitol in Oklahoma City, following the Oklahoma Supreme Court's decision that it violated the Oklahoma Constitution…

ALCU Legal Director Brady Henderson said they are not filing the lawsuit because the monument offends people; rather, it is part of a much bigger issue.

"What we fight for is for people to respect the Constitution because respecting the Constitution means respecting liberty, respecting equality and fairness," Henderson said. "It means respecting the heritage of our country and our state."…

Henderson said after the lawsuit is filed, it's up to Johnston County as far as what happens next.

"It depends on whether this is something they simply did to make a point and they're willing to be rational about it or whether this is going to turn into something more like a Kim Davis-style publicity stunt," Henderson said. "Where it will be extended and you'll have people wanting to do more of this public martyrdom."
The Supreme Court has already ruled on this, in McCreary County v ACLU, a Kentucky case from 2005. You can't put up a standalone Ten Commandments display and then pretend that it's not an endorsement of religion by the government. If they decide to fight this, and I'm sure they will, they're gonna lose.