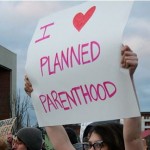 Last week the state of Texas carried out raids on several Planned Parenthood clinics throughout that state, demanding a huge number of records, including the names, addresses and medical records of patients and the names and addresses of staff who worked there. This is a profoundly disturbing, but hardly surprising, development. And the excuses they're offering for it are almost laughable.

Three days after Gov. Greg Abbott announced his decision to end Medicaid funding for Planned Parenthood, state health department investigators showed up on Thursday at Planned Parenthood health centers in Houston, Dallas, San Antonio and Brownsville with orders to turn over thousands of pages of documents, including patients' records and employees' home addresses and telephone numbers.

Some, but not all, of the extensive records sought by the state related specifically to abortion.

For example, Planned Parenthood South Texas was told to produce five years of records — whether electronic, paper or ultrasound — concerning any patients billed to Medicaid who had an abortion in which any part of the fetus was removed or preserved for research use. Planned Parenthood Gulf Coast was to turn over a complete copy of certain patients' records, including doctors' orders, nursing notes and lab tests, as well as the center's appointment books, patient sign-in sheets and contracts.

"We're concerned about the breadth and depth of what they're asking for," said Sarah Wheat, a spokeswoman for Planned Parenthood of Greater Texas.
They damn well should be. All of this is based on those highly dishonest videos that have sparked all kinds of fake controversy over something that is perfectly legal.
In the notice of Medicaid termination that the Texas inspector general for the state's Health and Human Services Commission, Stuart W. Bowen Jr., sent Monday to the Planned Parenthood affiliates, he said the state had determined that the group was "no longer capable of performing medical services in a professionally competent, safe, legal and ethical manner."

The notices cited two reasons for that decision: First, they said the videos showed that the organization had a policy of altering its abortion procedures to better procure fetal tissue, in violation of medical standards. In addition, they said the videos showed people posing as buyers of fetal tissue being allowed to handle bloody tissue wearing only gloves, in violation of infection-control standards.
Yeah, I'm sure they're really worried about violation of infection-control standards. This is just an attempt to intimidate both the clinics and those who use them, and it's all over something that is perfectly legal. Federal law explicitly makes it legal to donate fetal tissue from abortions for medical research, a law that was passed with bipartisan support long ago. And the state itself is violating federal law by trying to cut PP off from Medicaid, as has been ruled already in several other states (and will be in Texas as well, as soon as a court hears a suit over it).