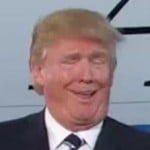 Donald Trump is continuing his incredibly successful campaign to appeal to female voters by telling women that they should love wearing a burqa. After all, it saves them from having to wear makeup! What could be better than that? Because what better way to appeal to women than to tell them they should hide their faces so they don't have worry about how they look? He obviously loves and cherishes women, amirite?

"I saw somebody say 'We want it over there where the women don't have to wear the you-know-what,'" Trump told the crowd, wiping his hand in front of his face to mimic the look of a burqa.

"And then I saw women interviewed," he continued. "They said, 'We want to wear them, we've worn them for thousands of years. Why would anyone tell us not to?' They want to!"…

"Fact is, it's easier," Trump said. "You don't have to put on makeup. Look how beautiful everyone looks. Wouldn't it be easier? Right? Wouldn't that be easy?"

"I tell ya, if I was a woman, I don't want to," he continued. "I'd be like, bwah [gesturing the burqa], 'I'm ready, darling, let's go.' It's true!"
By next week, he'll be coming out with a new line of burqas, made in Mexico or China of course, that will be the classiest burqas you've ever seen, way better than those low-energy loser burqas being worn now. And he guarantees that he's going to win a majority of female voters.