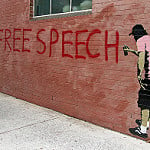 A school in Monroe, Michigan has pulled a very popular children's book series from a school book fair because one of the characters in the most recent book in the series is gay. And if they keep the book there, it might give kids and parents gay cooties or something. The school principal and the PTO made the decision and the superintendent is supporting that decision.

A Michigan public school's decision to ban a children's book that features a gay character is making local news, and the superintendent's assertion that LGBT-related material is unfit for a learning environment has outraged some.

The popular "Captain Underpants" series was praised in September when author-illustrator Dav Pilkey revealed one of its major characters is gay. In Captain Underpants and the Sensational Saga of Sir Stinks-A-Lot, the 12th installment in the series, young Harold travels into the future and discovers he will someday marry a man.

That fact, Monroe School District superintendent Barry Martin explained, makes the book unsuitable for children. He told WXYZ that's why he and the Parent-Teacher Organization decided to remove the book from the upcoming Arborwood Elementary School Book Fair.
Yes, the very hypothetical existence of a gay character makes the book "unsuitable for children." That sends exactly the message we want to send to gay kids, isn't it? And to those who bully gay kids too. The school has now told them, in no uncertain terms, that there is something so wrong with being gay that the mere mention of it in a book makes that book bad. Imagine what it makes kids think about actual gay people. An absolutely appalling decision.