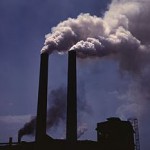 The EPA has begun to implement a new set of rules under the Clean Water Act. It's called the Waters of the United States Rule and it protects millions of miles of streams and rivers from pollution. Predictably, the Republicans are trying to tear down that rule at the behest of their corporate paymasters and the Senate on Thursday passed a bill to nullify the EPA's actions.
Almost immediately after failing to pass a bill that would have required the EPA to rewrite its Waters of the United States rule, the Senate voted to advance a measure that would block the rule entirely under the Congressional Review Act.

The resolution, put forward by Sen. Joni Ernst (R-IA), passed with a simple majority vote of 55-43. The resolution earned the support of all Senate Republicans — with the exception of Susan Collins (R-ME) — and three Senate Democrats: Sens. Joe Donnelly (D-IN), Heidi Heitkamp (D-ND), and Joe Manchin (D-WV).

The vote came just an hour after the Senate failed to pass a separate bill, sponsored by Sen. John Barrasso (R-WY), which would have nulified the Waters of the United States rule — also known as the Clean Water Rule — and set strict parameters for the EPA and Army Corps of Engineers in rewriting the rule. Under Barrasso's bill, the EPA would have been required to consult with private industry, as well as local and state governments, in redrafting the rule.

Ernst's resolution, under the Congressional Review Act, would kill the rule entirely, but it's unlikely to get much further than the president's desk, as the Obama administration has already threatened to veto it.
Right, it won't make it past Obama's veto, and they know that. This is one of the many cases where Congress passes a bill solely for political purposes, so they can use it to appeal to donors and their base in next year's campaign. I can almost picture the commercials now, put out by some shadowy organization with a name like Americans for Responsible Energy and Cute Kittens, funded by the Koch brothers. The voiceover:
"As usual, the EPA is trying to destroy America's most cherished traditions. In decades past, rivers would be lit on fire to celebrate the Fourth of July and Christmas, but the EPA has destroyed the ability to make water burn with their new rules. Why? Because they don't want you celebrating the birth of the greatest country in the history of the world, and they certainly don't want you to celebrate the birth of Jesus Christ. If the Marxist secular progressives got their way, all of our traditions would be destroyed. Don't let the EPA destroy Jesus and America! Call your congressman today!"