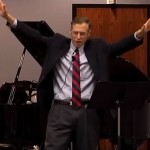 Kevin Swanson, the utterly deranged preacher who thinks gay people should be murdered, was one of the speakers at his own "religious liberties" conference, where three presidential candidates were happy to speak despite Swanson's desire to see gay people murdered (imagine if he wanted Jews murdered, you think Cruz, Huckabee and Jindal would have been there?). And he said that God is going to destroy America because a Harry Potter character was gay.
According to Right Wing Watch's Brian Tashman, Swanson said America should repent for Harry Potter, and also for the fact that Potter wizard master Albus Dumbledore was gay.

Swanson also said country music, the computer-animated film How to Train Your Dragon and the Disney cartoon Frozen are Satanic.
Watch this absolutely loony video of his talk: