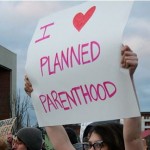 No, I'm not talking about the situation with racism on the University of Missouri campus, though that situation is plenty appalling. I'm talking about a Republican state senator in that state who is interfering and trying to stop a grad student from doing her grad thesis on the effect of the 72-hour waiting period for abortions on women. This is just staggeringly over the line:

A state lawmaker wants to stop a graduate student at the University of Missouri from continuing research for her dissertation on the impact of a 72-hour waiting period on women considering abortions.

Missouri state Sen. Kurt Schaefer (R-Columbia) claimed in a letter to the university chancellor dated Oct. 30 that the university is breaking the law by allowing the student to carry out her research. The grad student is studying a recently imposed law requiring women in Missouri to wait 72 hours between the time they seek information about an abortion and the point at which they have the procedure…

The graduate student's research, Schaefer insists, is a "marketing aid" for Planned Parenthood using taxpayer dollars. Missouri law prohibits state employees from using tax dollars to encourage a woman to have an abortion that is "not necessary to save her life." But defenders of the study say Schaefer's suggestion the school shouldn't be able to conduct this research is a threat to academic freedom…

The university is "well aware" of the law forbidding tax dollars to be used for encouraging abortions, MU spokeswoman Mary Jo Banken said, but that's not what the student is doing — and she does not receive any scholarships or grant money from the university anyway.

"As the state's research, land-grant institution, we must stay committed to the discovery, dissemination, application and preservation of knowledge to support our mission while abiding by state and federal laws," Banken said in a statement. "We will continue performing life-saving research in our laboratories while providing the highest quality of educational opportunities to our students."…

Part of Schaefer's complaint about the 72-hour waiting period study is that the student's supervisor, Marjorie Sable, is a member of the Planned Parenthood of Kansas and Mid-Missouri Board of Directors. The grad student is a Ph.D. candidate in the School of Social Work, of which Sable is a director.

"It is difficult to understand how a research study approved by the University, conducted by a University student, and over seen by the Director of the School of Social Work at the University can be perceived as anything but an expenditure of public funds to aid in Planned Parenthood in improving 'its services to better meet the needs of women seeking abortions' in clear violation of Missouri law," Schaefer wrote.
Are you fucking kidding me? This is a massive overreach of this guy's authority and the university should tell him to shove his complaints somewhere very painful.