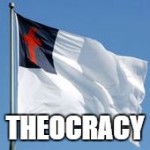 Foreign Policy magazine has an article about Robert Dees, a retired two-star general who is now Ben Carson's chief foreign policy adviser (and judging by how Carson babbled incoherently when asked about foreign policy in the debate on Tuesday, he doesn't seem to be doing a very good job). Turns out he's one of those theocrats who wants to use the military to evangelize the world.
When it comes to foreign policy, it's tempting to grade Ben Carson on a curve. A retired neurosurgeon with no political experience, Carson has promised that, as president, he would be as ready "as anybody else when foreign-policy questions come up" by surrounding himself with experts who would help him craft and, eventually implement, foreign policy.

But Carson's foreign-policy experts are likely part of his problem. The candidate's most outrageous statements on national security — including his shocking declaration in September that he believes Muslims are unfit to serve as president — aren't merely a collection of ill-informed gaffes. They are a reflection of the troubling worldview of the people he has turned to for advice. Chief among them is Robert F. Dees, a retired Army officer who has indulged in anti-Muslim bigotry and advocated for a national security strategy centered on Christian evangelism…

It's impossible to know the precise content of Dees's advice to Carson. But Dees's professional background doesn't provide much reassurance. In 2013, he told a gathering at Wildfire Weekend, an all-male religious retreat, "My greatest pleasure has been being a private in the Lord's army." He also recounted being introduced to Jesus Christ by a math instructor at West Point not long after he enrolled there as a student in 1968. "Then I went off in the military," he said, "as an ambassador for the Lord Jesus Christ."…

These views are consistent with the work Dees pursued after retiring from the military as a two-star general in 2003. For nearly six years, beginning in March 2005, Dees served as executive director of Military Ministry, a division of Campus Crusade for Christ, now called Cru, a Christian evangelical organization with an annual budget of almost half a billion dollars. His Military Ministry was dedicated to converting members of the military to Christian evangelicalism. Under Dees, the organization oriented its mission around "six pillars," the first of which was: "Evangelize and disciple enlisted U.S. military members throughout their military careers." According to the Billy Graham Evangelistic Association, which worked closely with the organization on a conference, "retired Maj. Gen. Bob Dees, U.S. Army, outlined goals that [included] evangelizing all enlisted personnel in the U.S. military."…

Dees has also described the military as a vehicle to eventually "indoctrinate" the American public at large to evangelical Christianity. "We must pursue our particular means for transforming the nation — through the military," he noted in a 2005 newsletter published by Military Ministry. "And the military may well be the most influential way to affect that spiritual superstructure. Militaries exercise, generally speaking, the most intensive and purposeful indoctrination program of citizens."

Dees also had troubling international ambitions for Military Ministry, in line with the organization's "sixth pillar" to "change continents for Christ." In the 2007 YouTube video, Dees described his group's goal of converting foreign countries to Christianity by evangelizing their militaries. "We seek to transform the nations of the world through the militaries of the world," he said. "And we're in twenty different countries around the world, recognizing that if you could possibly impact the military, you can possibly impact that whole nation for Jesus Christ and for democracy and for proper morality and values-based institutions."
This is pretty frightening stuff, but not at all surprising.