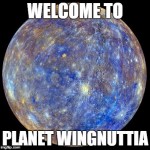 There's a new report from the Pew Research Center that shows that fewer Mexican immigrants entered the United States over the last five years than the number that went back to Mexico. For some weird reason, the Worldnetdaily posted a link to an article in USA Today about the report under the label "Invasion USA." Wouldn't that be like the opposite of an invasion?



But the real highlight here are the commenters at WND. It's like a cavalcade of WTF.
When everything edible is gone even rats climb out of a dumpster…

FORCE MEXICANS TO CLEAN UP THEIR MESSES AND PAY THEIR ENORMOUS "EXIT TAX" ON THEIR WAY OUT…

They see Trump ahead…

They may be smart enough to know it's not safe with husseinO bringing in so many terrorists…

You can thank billy Clinton for NAFTA it destroyed the Mexican economy too that's why so many more have been coming north the last dozen years. NO jobs in Mexico either thanks to the democrats…

That's because they aren't stupid-they know a sinking ship when they see one. Approaching 20trillion in debt? Yep they're getting out while the getting is good…

I don't believe it. You can't swing a dead cat around here without hitting an illegal alien. They are everywhere now. It's Waaaaaaaay worse than it was just 4-5 years ago…

If true, we know at least one reason why Obama is so hot to bring in Syrian "refugees"…

Rats abandon ships when they perceive that the ship is unsafe. Maybe the Mexicans can see how many Muslims are invading and are looking for safer places to live.
I love how they can't settle on which conspiracy theory is true.