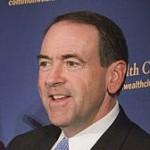 Mike Huckabee, who remains absolutely convinced that the president can ignore any Supreme Court ruling he doesn't like (unless Obama did that, of course; then it would be an outrageous HitlerStalinMao action), told the Iowa Family Leader forum this weekend that if he is elected, he will not only ignore the Supreme Court's same-sex marriage ruling, he would issue an executive order outlawing abortion completely.
"I'm convinced the next president should ignore the unconstitutional and illegal rulings of the courts, including that of same-sex marriage, because it is not the law of the land," Huckabee said.

He also reiterated his plan to outlaw abortion with a sweeping presidential decree: "We [should] simply say, there will be no abortion because that unborn child is a person."
Aren't you glad that his odds of becoming president are about equal to those of Mr. Snufflupogus?