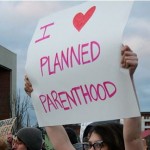 In what has become a depressingly familiar story, a white male Christian terrorist opened fire at a Planned Parenthood clinic in Colorado Springs, which is practically Mecca for that particular demographic, wounding at least 11 people. The shooter is in custody but they have not yet released his name as of this writing. Police are saying it's too early to speculate on his motives. No, I'm afraid it isn't.

Police in Colorado Springs, Colorado have apprehended the suspect who opened fire at a Planned Parenthood clinic early Friday afternoon, injuring at least 11 people, including five police officers.

"The perpetrator is in custody, the situation is resolved," Colorado Springs mayor John Suthers told reporters at around 7:00pm Eastern Time on Friday. "There is no continuing peril to the people of Colorado Springs."

Though police could not confirm the motive or identity of the shooter, the arrest ended a standoff that lasted more than five hours at the reproductive health center. Colorado Springs Police Department Lt. Catherine Buckley said multiple civilians were wounded, but would not discuss the severity of their injuries or say whether any people were killed.

The incident began at around 2:00 p.m. EST, and remained active for several hours. During a briefing with reporters at 6 p.m. EST, Buckley said the gunman was still inside the Planned Parenthood office and had not been apprehended. She said "numerous" people had been evacuated. Buckley also said the shooter had brought a number of "items" into the building, but would not speculate on what those items were.
I don't care what those items were, but we can be about 99% sure of the motive. Who attacks Planned Parenthood clinics if they're not an anti-abortion fanatic? Sadly, we've seen several such attacks in the last few months as a result of those incredibly dishonest videos put out by anti-choice zealots.
Look, it's clearly time that we stop allowing white male Christians into the country. They are an imminent threat to commit violence. We should have a national database of all Christian men and keep them under surveillance. We should make them wear badges that identify them. #sarcasm