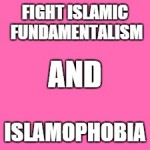 Remember Jon Ritzheimer, the wingnut bigot from Oklahoma who organized several anti-Muslim rallies full of heavily armed dumbasses, then launched a fundraiser for $10 million (which got almost nothing)? The FBI and the police in an upstate New York town are looking for him after he posted a video holding a gun saying he was going there for a confrontation at a mosque.

Jon Ritzheimer, of Phoenix, Arizona, was seen with a gun and claiming that he was heading to Islamberg, a rural hamlet that is home to a small Muslim community about 130 miles northwest of New York City, the reports said. His comments could be viewed as threatening, they said.

Ritzheimer posted the video on Facebook, according to the reports.

New York City's Daily News, citing sources, reported that the FBI had issued an alert to law enforcement agencies to look out for him.

"After recently becoming aware of a video which could have been perceived as threatening against the Muslim community in Hancock, N.Y., the FBI immediately took steps to notify our federal, state and local partners," the paper quoted a spokeswoman for the FBI's Albany field office as saying…

The Muslims of America have called for Ritzheimer's arrest, according to the reports.

"We let the FBI know as soon as we saw the video," a report quoted spokesman Muhammad Matthew Gardner as saying. "We upped our security at all our properties."
Here's the video:
This guy is unbalanced and very dangerous.