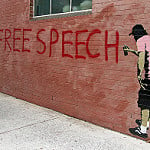 The situation in Pakistan just gets more horrifying by the day. A mob of Muslim reactionaries (like Hitchens, I try not to call them radicals because radicalism has a long history of positive reforms) attacked a factory in Jhelum because they'd heard a rumor that one of the employees had "desecrated" the Quran. The government has arrested dozens of people involved in the attack — and the alleged "blasphemer," of course.

Authorities called out the army on Saturday to quell violent protests triggered by allegations of blasphemy against employees of a factory in the northern Punjab district of Jhelum.

Interior Minister Chaudhry Nisar Ali Khan ordered deployment of the army in aid of the civil administration to maintain law and order in Jhelum, the interior ministry said in a statement. Nobody will be allowed to take the law into their own hands, the minister said…

It all started Friday night when a mob gathered outside the Pakistan Chipboard Factory on GT Road, alleging that an employee inside had desecrated the Holy Quran. The mob then set fire to the factory, though no one was injured as all the workers had been evacuated by the time, sources said…

A deputy reader to the DPO told The Express Tribune the factory is owned by a member of the Ahmadiyya community. The security in-charge in the factory, who is also an Ahmadi, was accused of desecrating the Holy Quran, he said, adding that an FIR has been registered and the accused arrested.
I've seen conflicting reports of how many of the attackers were arrested, ranging from 40 to 80. But once again we are reminded of the utterly barbaric nature of Islamic fundamentalism.