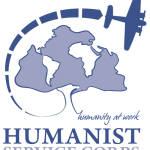 If you don't know who Conor Robinson is, you should. He is the extraordinary young activist who created the Humanist Service Corps. After graduating from Yale, he decided that he didn't just want to go out and get a job, he wanted to do something to change people's lives. He created the Humanist Service Corps, with the help of the Foundation Beyond Belief, and is currently in Ghana with the first class of the HSC working in the witch camps there. This is an interview I did with him:

1. First of all, how are things going in Ghana? Can you tell us what kind of projects you've been working on there?
It's looking as though we will meet every one of the project goals we set for the program this year. Cleo is overseeing a clean water project at Kukuo, one of the camps for alleged witches. We're currently in the planning stages there, working with the Kukuo Water Committee to decide which filtration option will work best for them and to apply pressure to the government to deliver on its promise to pump the water from two reliable boreholes near the community. We hope to begin construction this February. Rebecca is in charge of a two-prong health project that will screen every person in Kukuo and then store their translated medical records in quadruplicate (with the patient, at the Kukuo health clinic, with Songtaba, and at the hospital). Currently, the people have very little access to their records and when they do the information is in English instead of the local language. Christian is working closely with Songtaba on a strategic "roadmap" document that sets Songtaba's mission-aligned goals for the next five years. Naduah is in charge of closing the digital gap in Songtaba's advocacy, which is already effective at engaging local governments and youth but not yet effective at relaying stories to a broader audience. Christian and Naduah are also collaborating with Songtaba to analyze data from the camps for alleged witches and the communities where accusations occur most frequently.
The goal there is to identify the most effective strategies Songtaba and HSC can implement to stop future accusations from occurring. On top of all that, we have our own program-building to do. This team is quite literally writing the book on HSC: all of our policies and procedures moving forward, important pre-service readings and exercises, language and culture resources. This team is contributing in countless ways to the success of future HSC teams.
2. What are some of the difficulties you've encountered in your time there, or hurdles you've had to overcome?
We knew this was going to be a difficult year but we didn't know precisely how it would be tough. For that reason, our goal last selection cycle was to field the most flexible, adaptable team possible. I called it the "figure it out team." Not my most creative moment. One of the volunteers dubbed it the "Space Jam Dream Team."
This team is incredibly, beautifully diverse, which can sometimes mean that people feel like they never have time to rest. Filters are on high alert outside the house because appearances and relationship-building are so important to our work. Filters are on high alert inside the house because the way we communicate and the emotional lenses we bring are all so wonderfully, frustratingly different.
Navigating Ghanaian hierarchies and relationship structures has been slow work. A predictable challenge, but a challenge nonetheless. Interestingly, our relationship with Songtaba has not been as helpful as we thought it would be in this respect. Some of the obstacles we've encountered have flustered our Ghanaian colleagues as much as they have mystified us. Fortunately, people forgive us for doing things in the wrong order, so to speak, as long as we are willing to go back and do things the right way. It just takes time. One good example of this occurred with our work in Kukuo. When we arrived in August, the same Action Aid community liaison and friend to Songtaba who had been our guide for Pathfinders Project went with us and Songtaba staff to the chief's palace to make the proper introductions. The community elders received us warmly and expressed their gratitude and support for the work we proposed. So, we set about working with the community liaison to organize subsequent meetings with a health committee and a water committee elected for the purpose of directing our projects in those areas. A month later, we were informed that the Kukuo elders were unhappy that we were going about our work through the "wrong channels." We were instructed to meet the regent and elders at the chief's palace with the District Assemblyman for Kukuo instead of the community liaison we'd been introduced to through Songtaba. At that meeting, Songtaba staff were chided for having directed us wrongly and we were lectured about the proper way of doing things. Then the elders welcomed us to Kukuo, explaining that it was truly our first day in the community because it was the day we arrived properly. Since that time, we have coordinated our work through the District Assemblyman.
It has been two months. Just last Sunday, we held a meeting with the Kukuo Water Committee and Cleo commented that things had been slow-going in the beginning but would most likely begin moving very quickly. She was referring more to delays from the government than delays within Kukuo, but an elder on the committee took the opportunity to remind us that the reason things went slowly in the beginning was because the community wouldn't get behind work that was begun improperly.
3. What distinguishes a humanist approach to such service projects from other approaches? Why is the model you're sort of inventing better than the alternatives?
The humanist approach emphasizes long-term sustainability and empowerment over immediate impact. This shift is seen in several key ways in the Humanist Service Corps. Everything starts with the identification of a grassroots partner with a track record of data-driven, effective innovation. Only if such an organization is interested in our help and is structured in such a way that we can facilitate program expansion and improvement behind the scenes is the environment suitable for the Humanist Service Corps. Why? Because that way, the face of change will remain a local one. HSC volunteers can work with the organization's staff and partners to train, facilitate, and empower without ever providing direct services. That is to say, without every competing with local professionals, but instead by expanding their numbers and hiring them!
All of this demands a mindset that is, unfortunately, rare among most volunteers and volunteering programs. On some level, most international service affirms that all lives have worth by recognizing the call to alleviate suffering wherever it is, whoever is experiencing it. Unfortunately, most international service approaches directly undermine local agency and invalidate local wisdom. This approach isn't just shortsighted, it's damaging. And it is not humanist. To my mind, there is no profounder expression of humanism than to enter a foreign environment seeking to learn rather than to teach, to listen rather than to speak, and to understand rather than to judge. That's how HSC is different. The Humanist Service Corps requires volunteers to recognize and overcome their own biases, which influences how they approach the rest of their lives. This isn't just about being effective during the year of HSC service: responsible international volunteering through HSC provides the right context for humanist activists to develop the skills and frameworks to engage more ethically and effectively once they return to the U.S.
4. You're now accepting applications for the next class of the Humanist Service Corps. What is the window for applications and how does someone apply?
Interested folks should email the following to hsc@foundationbeyondbelief.org by December 31st:
• Cover letter explaining (1) why the applicant is ideal for HSC and (2) why the applicant wishes to join HSC
• Resume/CV
• Three letters of reference, including at least one from a professional supervisor (preferably more). One letter of reference may be submitted from a project, lab, or thesis supervisor. One letter of reference from a professional colleague is also allowed.
5. What kind of people are you looking for?
We are looking for applicants 18 or older who have a passion for learning and relationship-building and who will be available from July 2016 through July 2017. Ideal applicants have travel experience that has required them to adapt to new cultures and environments over an extended period. Applicants need not necessarily be humanists, but they should have an appreciation for HSC's unique volunteering philosophy, which means they should be cognizant of the ethical dilemmas present in international service. HSC volunteers must be flexible and possess the self-motivation to work individually alongside the emotional intelligence to function as part of a team.
6. When would an applicant start and do we know yet where the next class will go?
The next team of volunteers will be building upon the foundation laid by this inaugural team. Their commitment will begin in July with language and culture training in Ghana's Northern Region. There is much work left to be done here, and still a role humanist volunteers can play in carrying that work forward. There may come a day when we and our partner organizations feel that the situation no longer matches the skills our volunteers can bring. Until that time, we are committed to supporting Songtaba's work. That long-term support is part of what makes this a humanist volunteering program. One year is not enough. Talk to Peace Corps volunteers and they will tell you two years is not enough. But with effective transitions between volunteer teams, our program will have a significant impact over time.
Even as we carry the work forward in the Northern Region of Ghana, we will also begin looking at other locations where Humanist Service Corps volunteers can collaborate with grassroots human rights organizations. Our goal is to expand to a second location within the next four years.
7. How can people help support the Humanist Service Corps?
We need HSC supporters to take an active role in spreading the word. This is important not just to raise awareness about the gender-based discrimination we are working with Songtaba to address, but also to amplify HSC's impact as an embodiment of humanist ideals. As an expression of nontheist values, HSC provides an important counternarrative to the antitheist rhetoric that is atheism's primary public face. This expression is important not just for correcting misconceptions religious people have about atheists, but also because the nonreligious need a prominent representation of service-oriented nontheism to draw more nonreligious individuals into responsible service wherever they are. So, we need people to help us make our audience as big as possible.
We also need more people to support HSC financially. Aside from the advantages I already mentioned above, one of the strengths of HSC's collaborative approach is that it minimizes costs and maximizes impact. But we still need people to invest in HSC as a program that is important not just for the people who volunteer, but for the movement as a whole. If we can get just 500 people to donate only $10 a month, it will allow us to move forward confidently. We will be able to accept more volunteers. We will have the capacity to expand our efforts to increase access to clean water and healthcare. We will be able to fully implement the plan we develop with Songtaba this year to address the root causes of the witchcraft accusations – insufficient access to education, healthcare, and jobs. As I mentioned, we want to expand to another location within the next four years. That will only be possible with a broad base of support.
8. Is there anything you've learned in Ghana that has surprised you? What have you learned there that will help HSC be more effective in the future?
Oh boy. So much learning. Not all of it surprising because it didn't necessarily defy expectations, but all of it helpful for the future.
We now have a much clearer picture of how to prepare volunteers for their transition to life and work in Ghana. We know all the thousands of logistical pieces that you can only learn by living in a place for several months. The small things that the locals don't even think to mention when you ask them for help because it's just the air they breathe. We know that volunteers don't need to be housed together in order to be best supported, and that they may actually do better if they are allowed to coordinate their own housing and opt into extracurricular expat time when they need it. Most important of all, we have learned that this collaborative model works. We are having a positive impact without creating a vacuum that will be felt in our eventual absence.
———————
Foundation Beyond Belief has put together a video explaining what HSC is doing and why you should support it, if you have the means to do so. I am so proud of having played even a tiny little role in helping get this off the ground. And whenever I get bothered by the dysfunction in the atheist/humanist community, I can point to people like Conor Robinson and the other volunteers who have literally left their entire lives behind to help people and it makes me feel better.