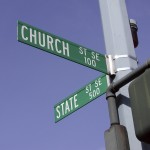 Looks like we have another Kim Davis on our hands, though a slightly different story. The clerk of Elbert County, Colorado has a poster on the wall of the clerk's office quoting a Bible verse saying marriage is only between a man and a woman. But he is apparently not refusing to issue marriage licenses to gay couples, he just thinks that gay people need to see that message.

It's hanging on the wall, above the desks where marriage licenses are issued. That's why a poster that quotes a Bible verse referencing marriage between a man and a woman is causing controversy in Elbert County.

The poster shows a bride and a groom, with a verse that reads "…each man should have his own wife and each woman her own husband." The verse is from I Corinthians.

Elbert County Clerk Dallas Schroeder would not appear on camera because he has obtained outside legal counsel, but he says the poster has been up for 15 months without any complaints.
I don't understand why they think is even remotely relevant to whether it's legal to do.
And while Schroeder claimed the poster was simply "a celebration of marriage," an email obtained by Denver7 suggests otherwise.

This summer, Schroeder wrote an email to several Colorado Court Clerks discussing same sex marriage and the poster he had specifically made in response to it.

"My thought process is that they have to see the poster," writes Schroeder in the email. "And if they choose to violate God's written Word, then that is on their head."
So he's a good little liar for Jesus too. But he does not get to do this. This has nothing to do with his free speech rights, that poster is on the wall in a government office and he is a paid government official. He doesn't get to use the resources of that office to push his religious views on people, plain and simple. The FFRF is getting involved and if this clerk decides to fight it, this is as close to an open-and-shut case as you'll ever see.