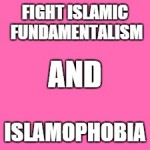 I've written before about the long history of anti-immigration nativism in this country. Every new ethnic group that comes here is greeted by the same bigotry, the same irrational fears (disease, taking our jobs, blah blah blah). But when it's a religious group specifically rather than an ethnic one, the dynamic is slightly different. And until the last few decades, it was Catholics being treated the way Muslims are today.

The year was 1915, and the strange new newspaper in Aurora, Mo., had grown so quickly in its first four years that rail officials had to build extra tracks for all the paper and printing materials suddenly rolling into town.

The Aurora post office, according to one account, more than tripled its staff to handle mail to and from the publication's astonishing 1.5 million weekly subscribers — a circulation that dwarfed the largest daily newspapers in New York and Chicago.

Hatred had become big business in southwestern Missouri, and its name was the Menace, a weekly anti-Catholic newspaper whose headlines screamed to readers around the nation about predatory priests, women enslaved in convents and a dangerous Roman Catholic plot to take over America.

"The cowardice of a Roman thug has no parallel in either the human or animal kingdom," the newspaper frothed in one 1914 edition, calling for "men with red blood in their veins" to defend women and children from Catholics. "If we are compelled to live in this county with Romanists, as our weak-kneed Protestant critics say we are, the Romanists will have to be taught their place in society."

America's deep and widespread skepticism of Catholics is a faint memory in today's post-Sept. 11 world. But as some conservative politicians call for limits on Muslim immigration and raise questions about whether Muslims are more loyal to Islamic law than American law, the story of Aurora's long-ago newspaper is a reminder of a long history of American religious intolerance.

Today, there are calls for federal surveillance of mosques in the name of preventing terrorist attacks; a century ago, it was state laws that allowed the warrantless search of convents and churches in search of supposedly trapped women and purported secret Catholic weapons caches.

"I see huge parallels," said Sharon Davies, executive director of the Kirwan Institute for the Study of Race and Ethnicity at Ohio State University. "I think we haven't seen anything quite like this since the beginning of the 20th century, when we passed laws that permitted the Catholics to be treated in ways that no other religious group was treated."

Anti-Catholicism stretches back to the nation's colonial times, when some states barred Catholics from holding office, and continued through the mid-1800s, which saw the Know-Nothing party's campaign against Catholic politicians. Lynch mobs killed Italian immigrants and arsonists burned down Catholic churches.
Over the last few decades, a relatively stable ecumenism set in with Catholics and Protestants calling a truce. This was spurred primarily by their mutual hatred of abortion, an issue on which they joined forces. But you can still find a hardcore anti-Catholicism among Protestants of the Calvinist variety in particular, people who make up a sizable portion of the far-right fringe of the Christian right. It's also very popular among white nationalists like the KKK and the Aryan Nation. In other words, a lot of the same people now turning their vitriol on Muslims have continued to do the same thing to Catholics.