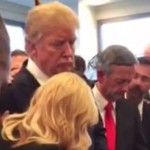 Republican pollster Frank Luntz held a focus group with 29 supporters of Donald Trump this week and some journalists, including my old colleague Dave Weigel, got to watch it all through a two-way mirror. What it revealed about Trump supporters is appalling, but not surprising. The more negative information they get about Trump, the more strongly they supported him.

Over three hours Wednesday in Alexandria, Luntz lobbed dozens of Trump-seeking missiles. All 29 in the group had voted for Mitt Romney in 2012. All either supported Trump or had supported him earlier in the year. To Luntz's amazement, hearing negative information about the candidate made the voters, only a few of whom gave their full names to the press, hug the candidate tighter.

"Normally, if I did this for a campaign, I'd have destroyed the candidate by this point," Luntz told a group of reporters when the session ended. "After three hours of showing that stuff?"

With only two exceptions, the three hours of messaging, venting and friendly arguments revealed the roots of Trump's support. Participants derided the mainstream media, accusing reporters of covering snippets of Trump quotes when the full context would have validated him. They cited news sources they trusted — Breitbart News was one example — to refute what they were being told…

Only eight members of the group disagreed with Trump's proposal for a temporary ban on Muslims entering the United States. One of the holdouts said he was hosting an exchange student from Saudi Arabia and did business in that country but could disagree with Trump about Muslims and vote for him anyway.

This voter listened as supporters of the plan explained that the media had lied about it, an argument furthered this week on conservative talk radio. As the night went on, the holdout said he had become more likely to back Trump…

None in the group wanted to find themselves on the side of the mainstream media — or of President Obama. When Luntz asked participants to sum him up in a word or phrase, "socialist" and "Jimmy Carter" tumbled forth until one man raised the ante.

"I wouldn't urinate on him if he was on fire," he said.

"That's the meanest thing I've ever heard," Luntz said.

Frank Lanzillo, a 59-year-old retired Marine, took that as a cue to explain just how anti-American the president really is.

"When you bend down to the Saudis, take your shoes off, put your hand on a Koran and then the Bible when you're sworn in?" Lanzillo said. "He took his flag pin off. I'm a Marine and former deputy sheriff. He took that off, he was in the toilet to me. I would not only not piss on him if he was on fire — I'd throw gas on him."…

Asked whether the president was a Christian, only three of the 29 participants raised their hands. Asked whether he was born in the United States, eight said no. When Luntz returned to policy, mistrust of the president informed the exclamations of trust in Trump.

"Donald Trump says that President Obama wants to allow 250,000 Syrian refugees to come into the country," Luntz said. "Who thinks that is mostly true?"

Nearly every hand shot up.

"Do you know that Obama has said he wants only 10,000 refugees?" Luntz asked.

"What's in his heart?" asked one participant.
That last line just says so much. It's an utterly nonsensical question. Why would it matter what's "in Obama's heart?" He's either going to allow in 10,000 Syrian refugees or he's not. And he's not. Trump is lying. But his voters brush off that lie with asinine, meaningless tripe like that.