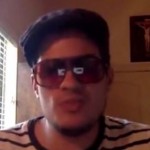 Holy shit. Theodore Shoebat, son of fake "ex-terrorist" Walid Shoebat and self-admitted Christian fascist, actually manages to be even worse than he has already been. In his latest video, he praises Donald Trump for wanting to ban Muslims, then goes further and says that they should be hunted down and killed just like we did to the Native Americans.

Trump's plan to ban all Muslims is the epitome of "American values," Shoebat explained, just as was Jackson's treatment of the Native Americans.

"Any Indian that expressed any sort of anti-American sentiment, he killed them," Shoebat rejoiced. "He had no tolerance for evil and wicked people. He got rid of them and he purged the society of these pagan heathens and he did an American Inquisition and that's what we need now … Homosexuality? Death penalty. Blasphemy? Should be punished. Pagans coming in to your land? Kill the pagans, defeat them, convert the to Christianity."
If expressing anti-American sentiment means you should be killed, Shoebat would have been beheaded by now.