Angie Drobnic Holan, the founder of the fact-checking site PolitiFact, has an op-ed in the New York Times that documents in plain fashion that the Republican candidates lie more often than the Democratic ones. And Donald Trump and Ben Carson lie a lot more than their fellow Republicans, by a pretty wide margin. Each of them has had less than 10% of their statements rated as true or mostly true.
I've been fact-checking since 2007, when The Tampa Bay Times founded PolitiFact as a new way to cover elections. We don't check absolutely everything a candidate says, but focus on what catches our eye as significant, newsworthy or potentially influential. Our ratings are also not intended to be statistically representative but to show trends over time.

Donald J. Trump's record on truth and accuracy is astonishingly poor. So far, we've fact-checked more than 70 Trump statements and rated fully three-quarters of them as Mostly False, False or "Pants on Fire" (we reserve this last designation for a claim that is not only inaccurate but also ridiculous). We haven't checked the former neurosurgeon Ben Carson as often as Mr. Trump, but by the percentages Mr. Carson actually fares worse.

Carly Fiorina, another candidate in the Republican race who's never held elective office, does slightly better on the Truth-O-Meter (which I sometimes feel the need to remind people is not an actual scientific instrument): Half of the statements we've checked have proved Mostly False or worse.

Most of the professional politicians we fact-check don't reach these depths of inaccuracy. They tend to choose their words more carefully.

Senator Marco Rubio of Florida, for example, has ratings of Mostly False, False and Pants on Fire at the 40 percent mark (out of a sizable 117 statements checked). The former Florida governor Jeb Bush's negative ratings are at 32 percent out of 71 statements checked, a percentage matched by two other Republican contenders, Gov. Chris Christie of New Jersey and Senator Rand Paul.
This chart sums up all the candidates: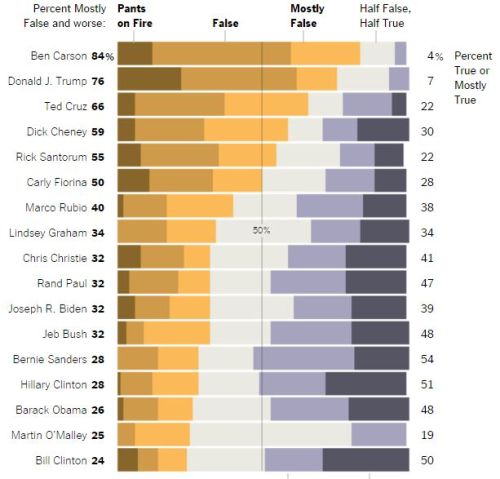 All politicians lie, of course. Hell, all people lie (and if you claim you don't, you're lying). But they don't do it at the same rate, or equally audaciously. And it should be quite obvious by now that Carson and Trump couldn't possibly care any less whether what they say in public is true or not.