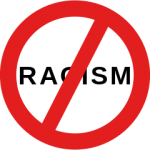 Here's yet another story of a public school official behaving in an absolutely appalling manner and receiving very little discipline. A middle school dean in Jacksonville, Florida was found to have made a series of racist, sexist and utterly inappropriate comments to both students and teachers and he was given a two-week suspension. This after already being disciplined previously for inappropriate behavior.
John Bouchard, the dean of students at Arlington Middle, made those inappropriate comments to both students and staff, according to school investigators.

A Duval County Public Schools investigation, which began in October, found that Bouchard made the statements on several occasions. He's now waiting out a 15-day suspension. (NOTE: Some of the comments listed below may be considered offensive.)

According to the report, Bouchard's comments to female staff members included:

"Black women in power can be difficult to deal with and act like [expletives] sometimes."
"Here she comes with that ugly Jewish face."
"You look like you got some last night."

Bouchard also reportedly told students "You look like Frankenstein" and "You must have gotten that hair done in the hood."…

It's not the first time he's been disciplined by the district.

The report showed Bouchard received a verbal reprimand in February for being unprofessional toward colleagues.
Seriously, people. Fire him. Like immediately. I hope there are lawsuits coming that will force them to do so.