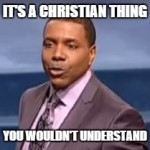 A "faith header" (read: con man) named Andrew Wommack delivered a really bizarre diatribe on miscarriages, saying that women who suffer them do so because they let their emotions get out of control. And all of this is to be blamed on looking at things from a "humanistic standpoint" rather than from "God's standpoint." See if you can make even a tiny bit of sense out of this:

On the Wednesday edition of the Gospel Truth TV program, Wommack cautioned that psychology was in direct opposition to God's teachings.

"They are dealing with things from only a physical, natural, humanistic standpoint," he explained. "This is one of the reasons that people's emotions are so messed up today is because instead of approaching it from God's standpoint, where it says control your emotions, don't let your heart be troubled, rejoice in the Lord always."

According to Wommack, emotions were like a horse because "once you ever let a horse just go and get a full head of steam, the best thing for you to do is jump off."

"Most people will get down and wallow in the unbelief and in the fear and all of this and they let things be conceived on the inside of them that they never intend to act out."
So women who don't control their emotions or go to psychologists have "things" mysteriously get "conceived" inside of them and then have miscarriages. Makes perfect sense.