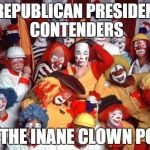 There's been a lot of talk, including on this blog, about Donald Trump mounting an independent run for the White House if he fails to get the Republican nomination (he's said he would not do that, but any rational person knows promises mean nothing to Trump or his ego). But Jeff Greenfield suggests the possibility of the opposite happening — Trump wins the Republican nomination and faces an independent challenge from mainstream Republicans.
Doonald Trump may have eased some Republican fears Tuesday night when he declared his intention to stay inside the party. But if their angst has been temporarily eased at the prospect of what he would do if he loses, they still face a far more troubling, and increasingly plausible, question.

What happens to the party if he wins?

With Trump as its standard-bearer, the GOP would suddenly be asked to rally around a candidate who has been called by his once and former primary foes "a cancer on conservatism," "unhinged," "a drunk driver … helping the enemy." A prominent conservative national security expert, Max Boot, has flatly labeled him "a fascist." And the rhetoric is even stronger in private conversations I've had recently with Republicans of moderate and conservative stripes.

This is not the usual rhetoric of intraparty battles, the kind of thing that gets resolved in handshakes under the convention banners. These are stake-in-the-ground positions, strongly suggesting that a Trump nomination would create a fissure within the party as deep and indivisible as any in American political history, driven both by ideology and by questions of personal character.

Indeed, it would be a fissure so deep that, if the operatives I talked with are right, Trump running as a Republican could well face a third-party run—from the Republicans themselves.

That threat, in turn, would leave Republican candidates, contributors and foot soldiers with painful choices. A look at the political landscape, the election rules and the history of intraparty insurgencies suggests that it could turn 2016, a year that offered Republicans a reasonable chance to win the White House and with it total control of the national political apparatus, into a disaster.
And this is not mere speculation. There's a good deal of precedent for this in the last century:
The most striking examples of party fissure in American politics have come when a party broke with a long pattern of accommodating different factions and moved decisively toward one side. It has happened with the Democrats twice, both over civil rights. The party had long embraced the cause of civil rights in the North while welcoming segregationists—and white supremacists—from across the South. In 1948, the party's embrace of a stronger civil rights plank led Southern delegations to walk out of the convention. That year, South Carolina Governor Strom Thurmond led a National States Rights Democratic Party—the "Dixiecrats"—that won four Southern states. Had President Harry Truman not (barely) defeated Tom Dewey in Ohio and California, the Electoral College would have been deadlocked—and the choice thrown into the House of Representatives, with Southern segregationists holding the balance of power. Twenty years later, Alabama Governor George Wallace led a similar anti-civil-rights third party movement that won five Southern states. A relatively small shift of voters in California would have deadlocked that election and thrown it to the House of Representatives.

In two other cases, a dramatic shift in intraparty power led to significant defections on the losing side. In 1964, when Republican conservatives succeeded in nominating a divisive champion of their cause in Barry Goldwater, liberal Republicans (there were such things back then) like New York Governor Nelson Rockefeller, Michigan Governor George Romney and others refused to endorse the nominee. More shockingly, the New York Herald-Tribune, the semi-official voice of the GOP establishment, endorsed Lyndon Johnson—the first Democrat it had supported, ever. With his party split, Goldwater went down in flames. Eight years later, when a deeply divided Democratic Party nominated anti-war hero George McGovern, George Meany led the AFL-CIO to a position of neutrality between McGovern and Richard Nixon—the first time labor had refused to back a Democrat for president. Prominent Democrats like former Texas Governor John Connally openly backed Nixon, while countless others, disempowered by the emergence of "new Democrats," simply sat on their hands. The divided Democrats lost in a landslide…

Republicans faced a similar issue in 1991, when former Klansman David Duke made it into the gubernatorial runoff in Louisiana. While he proclaimed himself a Republican, he was roundly rejected by the party at every level—the outgoing GOP governor endorsed former Governor Edwin Edwards—and Duke lost overwhelmingly to Edwards. (It's a campaign best remembered for the bumper sticker touting the ethically challenged Edwards: "Vote for the crook—it's important.")

It's this example that perhaps offers the best parallel to what Trump would face as the nominee. If you want to see the most sulfurous assaults on Trump, don't look to the editorial pages of the New York Times or the comments of MSNBC personalities; look instead to the most prominent media voices in the conservative world: National Review, The Weekly Standard, Commentary and the columns of George Will and others. In part, they deplore his deviations from the conservative canon; deviations that former Reagan aide and onetime FCC Chairman Dennis Patrick summarizes this way: "Many of my colleagues from the Reagan administration would have a hard time pulling the lever for Trump. We weren't just Republicans, we were conservatives. It is very difficult to square any principled theory of conservative governance with much of what Trump says."
None of this seems too farfetched to me. As much as some on the left like to think of the enemy as a single monolith, there are very deep divisions within the GOP. If you don't believe that, ask John Boehner. I've been writing about this since 2010, when the Republican party made the fateful decision to try to ride the Tea Party horse into power. It worked then, allowing them to take over the House and most state legislatures and governerships.
But as I said at the time, this was not a horse that they could break and they quickly realized that when they lost control of their own caucus in the House to extremists who view any compromise as a literal betrayal. This is what spawned the likes of Ted Cruz, and it's the kind of temperament that Trump is giving voice to. There is a war within the GOP that at some point has to open up into open warfare, as it has for both parties at various times in the past. And Trump could either declare the war himself or have it declared upon him.