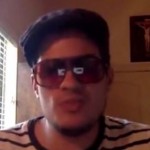 Christian fascist and sociopath Theodore Shoebat is on a roll lately. Every day, it seems, he has a new prescription for the totalitarian theocracy he so loudly advocates. His latest declaration is that in order to establish a truly Christian civilization, which he believes Donald Trump will build if elected president, SWAT teams must raid and shut down yoga studios.

After complaining, without a hint of irony, that he regularly gets compared to ISIS for his beliefs, Shoebat proclaimed that he would not hesitate to invade India and force all Hindus to convert to Christianity while also outlawing the practice of yoga in America.

"You need to Christianize the land," he stated. "We need to destroy these false religions, end of story. Hinduism is an evil, demonic, anti-Christ religion. It needs to be uprooted from the earth and it has no place in the world."

"Yoga? Outlawed," Shoebat continued. "And anyone who teaches yoga? Punished by the state … I think the U.S. government needs to crack down on this evil, demonic thing called yoga … You're teaching yoga, have the SWAT team bust open the doors to that place and just arrest everybody."
Hey Theodore, you know why you get compared to ISIS? Because you're just like them in every relevant way. You're a religious fascist, just like they are.