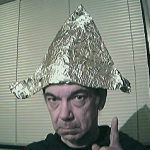 Every year we get innumerable predictions from the far-right of impending dystopia that always end up being false, which does nothing at all to make them rethink their positions. Right Wing Watch counts down some of the most ridiculous ones from 2015, including all that Jade Helm 15 nonsense and Biblical predictions of God's wrath being poured out on the country.

Several Religious Right pundits jumped on a nonsensical and convoluted tale about how blood moons and the Shemitah, a biblical day of debt relief, would lead to some sort of disaster in America on September 13. The far-right website WorldNetDaily marked the arrival of the Shemitah with articles titled "Mark This Date For Potential Disaster," "Get Ready: Biblical 'Shemitah' Begins This Week" and "Countdown To Disaster." One of the leading propagators of this theory was Messianic rabbi and Religious Right fixture Jonathan Cahn, who even wrote a book on the matter.

Essentially, Cahn claimed that prophecies pertaining to biblical Israel can now apply to the U.S. because the founding fathers, like ancient Hebrews, made a covenant with God. As a result of the country breaking that covenant due to national "sins" like gay marriage and legal abortion, he forecasted that September 13 would be the date that America faced divine punishment.

Contrary to Cahn's predictions nothing catastrophic happened on that day in the U.S. Cahn defended his prophecy by pointing to an earthquake off the Gulf of California, a body of water which he conveniently forgot to mention borders Mexico, not the U.S. He also claimed that a stock market selloff on August 18 was close enough to his doomsday date, so he was right all along! (The Dow Jones has since rebounded since the August correction). He went on to insist thatanything bad that happens between September 2015 and September 2016 would also validate his prophecy.

Cahn's prophecy caught on with commentators like Rick Wiles of "Trunews," who said that between September 13 and October 9, there would be a major "financial plunge of the Dow Jones stock index, possibly 30 percent or more" as God sent a "big attitude adjustment" to America. The Dow Jones actually went up during that time.

Televangelist John Hagee went even further, claiming that there could be "a 50 percent correction in the stock market" in the fall due to the Shemitah and blood moon prophecies. "I believe, in the fall of this year, America and the world will face another economic crisis, perhaps as a result of war in the Middle East or an economic crash," he declared…

After blowing his September prophecy, Cahn saw a biblical threat from Hurricane Joaquin. He said that the Supreme Court's gay marriage ruling and the White House's LGBT Pride Month celebration with rainbow lights had provoked God's judgment, and now,  Hurricane Joaquin would strike Washington, D.C. Cahn wasn't alone, as Wiles too said that God was using Hurricane Joaquin to punish the U.S. by striking Washington, D.C., and New York. (It didn't hit either city).

Cahn and Wiles were far from alone in making wild predictions about the effects of gay marriage.

One month before the Supreme Court issued its ruling, American Family Radio host Bryan Fischer warned that if the Supreme Court struck down state bans on marriage equality, then we would see violence in the streets: "If the Supreme Court continues to overreach and they aren't checked, we are headed towards civil unrest, I don't think there is any other way around it. If it's not stopped and reversed, the tyrannical overreach of the Supreme Court, we are to have social dislocation and I believe we are going to have violence as a result."

WorldNetDaily editor Joseph Farah predicted that "millions of Americans" would flee the country to evade gay marriage, televangelist Pat Robertson warned of financial calamities as a sign of God's judgment for the Supreme Court marriage equality ruling and Massachusetts-based pastor Scott Lively said the Antichrist could emerge around September 23…

The Jade Helm 15 conspiracy theory, which was cynically fueled by GOP politicians, centered around fears that a military training exercise taking place between July 15 and September 15 of this year would produce grave consequences, such as a federal takeover of Texas, the declaration of martial law and the transformation of closed Walmart stores into FEMA camps. Others thought that Jade Helm 15 was a deliberate attempt to stoke chaos, which would justify military rule in the future. 
This follows on the end of 2014, when we were supposed to have all died from Ebola, which Obama was deliberately bringing to the United States so he could close down churches and round up "patriots" into FEMA concentration camps. Always remember that there is no bottom here, no extreme too extreme, no claim too ridiculous, for the right wing. Ever.