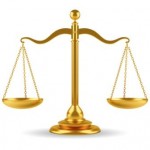 When fascist cult leader Rev. Sun Myung Moon died, it set off a huge fight for control of his massive business and religious empire. Principally, it set up a fight between his unstable son Preston and his siblings. They've been suing one another and an appeals court has reversed a lower court ruling that said the courts would not hear the case because of the ecclesiastical abstention doctrine.

What is the ecclesiastical abstention doctrine? It basically means that the courts, because of the Free Exercise Clause of the First Amendment, generally do not get involved in disputes if resolving that dispute requires that the court make judgments about matters of internal religious doctrine. The district court dismissed the case on such grounds, but now the appeals court has reversed that and ordered that the case go to trial.
In Family Federation for World Peace and Unification International v. Moon, (DC App., Dec. 24, 2015), the District of Columbia Court of Appeals reversed the D.C. Superior Court's dismissal of a complicated dispute over control of a D.C. non-profit corporation, UCI, which over the years has managed hundreds of millions of dollars of assets donated to Reverend Sun Myung Moon's Unification Church. The trial court had invoked the ecclesiastical abstention doctrine, concluding that the dispute could not be resolved without the court deciding questions of religious doctrines. The appellate court disagreed.

UCI was created in 1977. In 2006, Preston Moon, one of Rev. Moon's sons became president of UCI and one of its five directors. In 2008, Rev. Moon appointed another son, Sean Moon, (Preston's younger brother) as the next leader of the Church's worldwide religious organization. This "disappointed" Preston who, apparently assumed that he would be appointed to the religious as well as financial leadership of the Church. In response to Sean's appointment, Preston took a number of steps to divest the Church of its control over UCI and its assets.

Those actions are challenged in this case by three entities connected with the original Unification Church and by two individuals who Preston removed as directors of UCI. The suit claims that Preston improperly took control of UCI's board, ignoring the long-standing practice of electing individuals nominated by Rev. Moon. The suit also alleges diversion of assets and self-dealing.
The appeals court said, "Were we to hold that, based on the current record, the First Amendment precludes our civil courts from adjudicating plaintiffs' claims, then it would approach granting immunity to "every nonprofit corporation with a religious purpose from breach of fiduciary suits . . . and prevent any scrutiny of questionable transactions." This will be worth watching.