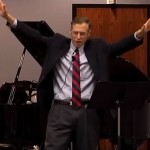 Kevin Swanson, the deranged bigot who wants gay people put to death, not only thinks that Girl Scout cookies and the movie Frozen turn kids gay, but that if Hillary Clinton is elected president, she'll turn the vast majority of American kids gay. Because apparently that's all it takes to make someone gay. The mere act of being elected will instantaneously turn kids gay.
On his "Generations Radio" program yesterday, Swanson said that although he was "severely mocked" for his remarks at the conference, it is true that America must repent or God will punish the nation through the election of Hillary Clinton, who will in turn lead "tremendous majorities of American kids" down "the track towards homosexuality" and other sexual sins.

Swanson got on the subject while discussing a recent case in Massachusetts in which a judge found that a Catholic school violated a state nondiscrimination law when it pulled a job offer from its food services director after he listed his husband as an emergency contact.

Swanson warned that this was all part of the "preparation for the Greek form of education, which, as you know, involves whatever's going on in gymnasia, very, very ugly stuff" and that the nation is "going in the direction of Harry Potter's mentor and Hiccup's mentor in 'How to Train Your Dragon,'" whom he says are gay…

If America fails to repent, he asked, "Why wouldn't Hillary Clinton get full rein upon this nation to continue the destructive pattern, destroy the social fabric of the nation — the family, of course — so that of course there will be 75 percent of kids born outside of wedlock to single mothers by the year 2030, so to be sure that tremendous majorities of American kids are taken down the track towards homosexuality, towards the destruction of sexuality with pornography habits, illegitimate divorce, the shack-up rates being 30 times what they were in 1970 and so forth?"
This totally rational claim is brought to you by fundamentalist Christianity. Accept no substitute.