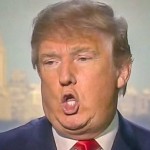 So now we know why Donald Trump is giving the keynote speech at an award ceremony for Joseph Farah at the Western "Journalism" Center, because Farah's Worldnetdaily just named Trump the "man of the year." Their entire rationale for doing so seems to be that his campaign has survived the "vicious attacks" of liberals after he's said so many unbelievably stupid and racist things.

They treated his campaign announcement as a joke. They tried to destroy his business. They called him every foul name they could come up with. But at the end of 2015, the biased journalists, political consultants, leftist activists, snarky comedians and embittered critics of every stripe had to concede one man had beaten them all.

Donald J. Trump is the Republican favorite for president of the United States. There's no indication he'll fall from the top spot any time soon. And he's the WND 2015 Man of the Year.

"It is my great honor to be named Man of the Year by your publication," Trump said in a statement to WND. "I very much appreciate your informative polls and coverage. Together, we will Make America Great Again."

It's been an incredible journey for Trump. Many supposed political experts and commentators laughed at him when, after years of hints, he finally announced he was running for president. The Democratic National Committee snarked about Trump's "seriousness," treating him as a phony candidate. Leftist comedian Jon Stewart called Trump "a gift from heaven." Politico called him "God's gift to the Internet" and contrasted him with the "more serious candidates."

Yet it's Donald Trump who's had the last laugh. And Trump has not only proven he is in the race to win, he's shown himself to be a skilled tactician and expert communicator, outwitting hostile reporters and political opponents at every turn and surviving media firestorms that would have destroyed any other candidate.

At the start, Trump was savagely attacked by leftist activist groups and journalists after referring to some illegal immigrants as "rapists" during his presidential announcement speech.
Yeah, how "savage" to criticize Trump for calling Mexican immigrants rapists. That poor, poor man.