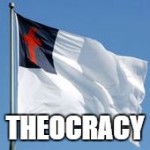 Christian totalitarian and Alabama Chief Justice Roy Moore has reignited the controversy over same-sex marriage and legal authority in that state by issuing an order that probate court judges may not issue same-sex marriage licenses, in direct violation of court orders from a federal district court and the Supreme Court. How'd you like to be a probate court judge in Alabama right now?

Chief Justice Roy Moore issued an order today saying that a ruling issued last March by the Alabama Supreme Court remains in effect and that probate judges "have a ministerial duty not to issue any marriage license contrary" to Alabama's law and constitutional amendment banning same-sex marriage.

In a four-page administrative order, Moore said the conflict between the state court ruling and the U.S. Supreme Court ruling in June has caused "confusion and uncertainty" among probate judges.

Moore said he issued the order today in his role as administrative head of the state court system. He quoted a state law that says the chief justice is empowered to "take affirmative and appropriate action to correct or alleviate any condition or situation adversely affecting the administration of justice within the state."

Moore wrote that since the U.S. Supreme Court ruling that many Alabama probate judges are issuing marriage licenses to same-sex couples, while others are issuing licenses only to opposite-sex couples or not issuing licenses at all.

"This disparity affects the administration of justice in this state," he wrote.
Which could have been resolved by rescinding that original order as well, but Moore is a vicious anti-gay bigot and a Christian Reconstructionist who has issued legal rulings saying that gay people should be put in prison or put to death. Now he's put probate judges in Alabama in a terrible situation, having to decide which court order to follow. Should they follow Moore's order, they will almost certainly face sanction from the federal courts. And if they follow the federal court order, who knows what the hell Moore might do to them. It's time to remove this menace from the bench. Again.
We've been down this road before, specifically in Alabama and George Wallace. It does not end well for the state.