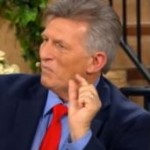 Today's WTF moment from the right wing fever swamps comes, unsurprisingly, from Rick Wiles' TruNews radio show. He had on retired Gen. Jerry Curry, who once said that Obama was going to bring in illegal immigrants to kill all American citizens and replace them. This time, Curry opined that because the military is the only thing preventing him from taking over, he will soon start killing soldiers.
I don't want to say what I think is going on because I don't like the conspiracy theory business, but I really have a feeling that, as we move down the road, I think that, it's unfortunate, but I think that we really have a lot of people out there now who are working for this particular government who would like to take over the country and run it just like a dictatorship.

The thing that stops — and this is what the Second Amendment really is all about —the thing that stops people who are absolutely anti-American, anti-Christian, the only thing that stops them dead in their tracks is the U.S. military, and the only way you can overcome the U.S. military is you've got to shoot them, you've got to kill them.

I have a feeling that while it may not work out that way, I have a feeling some of these people who are buying these ammunition and doing the training, I think that that's exactly what they're about, their idea is they hope they will have an opportunity to kill American soldiers and to take over the country and run it. It sounds awful and it sounds crazy.
You're right it does. Because it is.