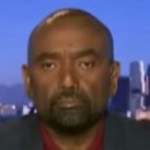 A black man goes on a white supremacist radio show? Yep, gotta be Jesse Lee Peterson, who thinks that women should not be allowed to vote and that racism not only doesn't exist, but never existed. Sean Hannity's buddy and Dennis Prager's hero, Peterson is far, far worse than just a run-of-the-mill Uncle Tom. So going on a white supremacist radio show is pretty much routine for him.
Unsurprisingly, Peterson's message went over very well in an interview last month with "Political Cesspool," an infamous racist, anti-Semitic radio program…

This got Edwards to talking about how liberals "don't respect the authority of scripture," tracing liberalism's supposed contempt for the Bible and fathers back to the "infamous" 1954 desegregation decision in Brown v. Board of Education.

"You're right, liberalism is evil," Peterson agreed. "The people who are liberals are children of the lie, their father is Satan, and they are doing exactly what they are supposed to be doing. The battle is a spiritual battle between good and evil, right versus wrong, so liberals are children of the darkness, and we need to understand that they are doing exactly what their father's nature is, and that is to destroy good."

Edwards then attacked liberals for having "weakened men" through such policies as no-fault divorce, which he said, derogatorily, "is as much of a liberal initiative as the Civil Rights Movement and radical feminism."

Peterson agreed that the government and liberals are "using women and children to defeat men so they will never turn back to God."
Liberals go on the Maury Povich show for a paternity test. Satan…you are NOT the father.