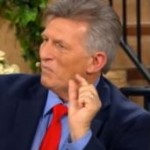 A self-declared "prophet" went on Rick Wiles' TruNews radio show and told him that the Holy Spirit had given her a prophecy that America is going to have a bunch of false flag operations, which might launch a world war with Russia, but she's awaiting further instructions to be certain about that. She even named a number of major cities that these events will occur in.

On Tuesday, Rachel Baxter of Valor Christian Academy shared with "TruNews" host Rick Wiles "a prophetic message given to her by the Holy Spirit, about false flags and the start of World War III." Wiles read a prophecy from Baxter, who says that God told her that "false flags" are coming to America and that they could take place in Miami, San Francisco and Chicago…

Wiles, who has long claimed that the U.S. and Russia are about to go to war, took Baxter's prophecy as proof that a conflict is coming between the two nations.

"The Lord is going to allow very wicked, evil men and women to carry out diabolical plots and plans that will bring destruction and eventually lead to world war," he said. "And my guess is, other nations will be blamed for these events, and most likely it will be Russia and other countries. We will be told by the news media and government officials that these things were caused by the Russians or whatever and we've got to go to war."
Wiles' position on Russia is all over the board. He has said that God is on Putin's side and even said that he might move to Russia after the Supreme Court's same-sex marriage ruling came down. He's also said before that Russia may bomb the U.S., but has also suggested that God may be sending them. But now we have a specific "prophecy" from this woman, which she claims came straight from God. So if these things don't happen, we get to stone her to death, right?