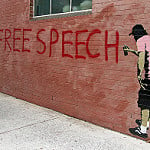 The International Humanist and Ethical Union has issued its annual Freedom of Thought Report, which documents discrimination around the world against atheists, humanists and the non-religious. The report was made public on International Human Rights Day in Brussels, Amsterdam and Washington, DC. Unfortunately, it got little press attention in this country.

The first report was published in 2012 on International Human Rights Day, 10 December. In his preface to the report, the United Nations Special Rapporteur for Freedom of Religion or Belief, Heiner Bielefeldt, said:

"As a universal human right, freedom of religion or belief has a broad application. However, there seems to be little awareness that this right also provides a normative frame of reference for atheists, humanists and freethinkers and their convictions, practices and organizations. I am therefore delighted that for the first time the Humanist community has produced a global report on discrimination against atheists. I hope it will be given careful consideration by everyone concerned with freedom of religion or belief."

For the 2013 report we asked two victims of anti-atheist persecution to provide the introductory remarks. The cases of Kacem El Ghazzali and Alber Saber, from Morocco and Egypt respectively, also feature in the report. They said:

"In spite of international treaties and conventions, many states discriminate in subtler but important ways. And this has a global impact. Laws against "insulting" religion in relatively secure, relatively secular countries, for example, are not only analogues of the most vicious blasphemy laws anywhere in the world, but help to sustain the global norm under which thought is policed and punished.

We welcome this report. The world cannot fix these problems until they are laid bare."
Indeed. I'm not sure whether this problem is getting better or worse. Has the rising influence of the most reactionary version of Islam in many countries around the world sparked an increase in blasphemy prosecutions, extra-judicial violence and other violent reactions to the open expression of non-religious views? I've been closely following the issue for several years now, but I don't know if it was better or worse before that time. But now that we have organizations like the IHEU monitoring and reporting on it, we at least have a clear picture of how bad it is.
I only wish that we had the resources to offer real hope for those in danger, both in terms of using American influence to push governments to stop imprisoning and killing people for "blasphemy" and other thought crimes, and in terms of being able to get more potential victims of such violence to safety. I'm certainly happy and proud that we managed to get Taslima Nasrin out of harm's way in 2015, but we have been impotent to help Raif Badawi and so many others.