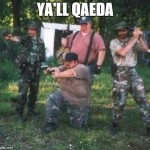 So now the Oregon Hummer humpers who took over a federal bird sanctuary have been joined by members of several militias, who say they don't really support what the group is doing but are there only to keep the peace (never mind that it was all peaceful before these dumbasses got there). But Ammon Bundy says he's not leaving any time soon because he's on a mission from God.
Members of self-styled militia groups met on Friday with armed protesters occupying a federal wildlife refuge in Oregon, pledging support for their cause, if not their methods, and offering to act as a peace-keeping force in the week-long standoff over land rights.

During the 30-minute meeting at the Malheur National Wildlife Refuge, a leader of the occupation, Ammon Bundy, told about a dozen representatives of such groups as Pacific Patriots Network, Oath Keepers and III% that he had no immediate plans to abandon the siege.

"I was asked to do this by the Lord," said Bundy, a Mormon, as some of the militia members nodded in understanding. "I did it how he told me to do it."
Heavily armed extremists who think God talks to them and hates the government as much as they do? Yeah, that's not terrifying at all. What could possibly go wrong?