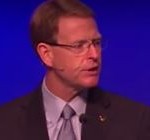 Tuesday is the entirely pointless State of the Union address, but Tony Perkins of the Family Research Council is going to deliver a talk even more meaningless than that, the 'State of the Family' address. He'll be delivering it not in front of a joint session of Congress but in front of a small group of ignorant bigots, including Kentucky Count Clerk Kim Davis.
On Monday, January 11 at 7:00 p.m. EST, Family Research Council President Tony Perkins will deliver his second annual address on the "State of the Family." This report to the nation will highlight key issues of concern to families and our broader culture and offer policy proposals to strengthen protections of human life, marriage, and religious liberty.

The speech will be given at FRC's headquarters one day before President Obama delivers his annual State of the Union address. Kentucky County Clerk Kim Davis will attend the speech. Also in attendance will be Dr. Everett Piper, President of Oklahoma Wesleyan University, which filed suit against Obamacare in 2013 for violating its conscience rights.
You know what I bet won't get any mention in the "state of the family" address? The tens of thousands of families headed by gay couples or individuals who have adopted children that suburban straight couples didn't want because they were too old, or had developmental or learning disabilities, or were the wrong color. I bet those families won't be talked about at all. In fact, I bet there won't be any talk about any actual families. Because "family" is just a code word for "we hate gay people" for the Christian right.