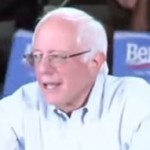 Democratic presidential candidate Bernie Sanders is publicly calling on Gov. Rick Snyder of Michigan to resign in the wake of a growing scandal over the poisoning of tens of thousands of people in Flint with lead from a bad drinking water source. That almost certainly isn't going to happen, but Sanders is right that it should. Snyder knew about it many months before taking action.
Bernie Sanders has called for the governor of Michigan to resign over the lead poisoning crisis that has hit the water supply of the city of Flint, saying on Saturday Rick Snyder has "no excuses" for the the disaster.

"The governor long ago knew about the lead in Flint's water," the Vermont senator said in a statement issued by his campaign. "He did nothing. As a result, hundreds of children were poisoned. Thousands may have been exposed to potential brain damage from lead. Gov[ernor] Snyder should resign."

In April 2014, as a cost-saving measure, the city of Flint switched its main water source from Lake Huron to the Flint river. Despite reports of problems with the water from sources including General Motors, which stopped using it, residents were advised by state officials to "relax" and continue to drink it.

Sanders' main rival for the Democratic presidential nomination, Hillary Clinton, has called such advice "unconscionable".
Again, not going to happen. He's in his second term and the state government is controlled by Republicans, so he won't get any relevant pressure to force his hand. But he should.