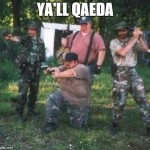 The governor of Oregon, Kate Brown, expressed anger and disappointment during a press conference this week at the seemingly total lack of federal response to the armed occupation of a federal wildlife refuge in that state. She called it a "spectacle of lawlessness" and demanded that more be done to end the occupation. And she's absolutely right.
Oregon's governor expressed anger Wednesday over federal authorities' handling of the occupation of a national wildlife refuge by an armed group and said she intends to bill the U.S. government for what the occupation is costing state taxpayers.

Gov. Kate Brown said federal officials "must move quickly to end the occupation and hold all of the wrongdoers accountable."

"The residents of Harney County have been overlooked and underserved by federal officials' response thus far. I have conveyed these very grave concerns directly to our leaders at the highest levels of our government: the U.S. Department of Justice and the White House," she said at a news conference.

Exasperated by a tense situation that has caused fear among local residents since it began Jan. 2, Brown said, "This spectacle of lawlessness must end, and until Harney County is free of it, I will not stop insisting that federal officials enforce the law."
I'm absolutely shocked by the lack of action on the part of the feds. I understand why they don't want to storm the place and cause a shootout, but they're letting them come and go as they please, letting people in to bring them supplies and haven't cut off any utilities at this point. That just guarantees that the situation is going to go on far longer than it could or should. They should have cut off the electricity and water immediately, if for no other reason than to give themselves a bargaining chip in negotiations, and there should be no way in or out of there.