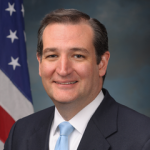 Ted Cruz is upset that some old-school Republicans like Bob Dole have begun to openly oppose his nomination, so now he's claiming that the Republican "establishment" has chosen to support Donald Trump. That's a rather laughable claim, but we're used to those from Cruz. And along the way, he throws out this jaw-dropping claim that would sound so different if you just replaced one word:
Cruz's initial comments came in response to a question about former Senate Majority Leader Bob Dole, who said in a New York Times interview that Cruz would be more damaging to the GOP than Trump, specifically that Cruz would generate "wholesale losses" and be unable to work with Congress. In the interview, Dole also said he questioned Cruz's "allegiance" to the Republican Party.

"I'm a Christian first, American second, conservative third and Republican fourth," said Cruz, who is currently a distant second place, behind Trump, for the GOP nomination in several national polls. "I'll tell ya, there are a whole lot of people in this country that feel exactly the same way."
Now just imagine: "I'm a Muslim first, American second." Cruz would be losing his damn mind over someone who made that statement. He'd be screaming SHARIA LAW at the top of his lungs. But then Cruz himself supports a Christian version of Sharia law himself, as do many of his followers. And yes, there are a whole lot of people in this country who feel that way, which is all the more disturbing.