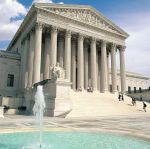 One of the strategies the forced birth people have used in the last few years is the passage of "fetal heartbeat" bills that forbid abortion after the point at which a heartbeat can be detected in the fetus. Several states have passed such laws and they've been immediately challenged in court, where they've been struck down. The Supreme Court has now denied cert in one such case.

The U.S. Supreme Court refused on Monday to review lower court rulings overturning North Dakota's ban on abortion at six weeks of pregnancy — before many women know they're pregnant.

The justices turned away the state's appeal of decisions striking down the 2013 fetal heartbeat law as unconstitutional. The law never took effect, and abortion-rights supporters said it was the strictest anti-abortion measure in the country.

The high court last week rejected Arkansas' bid to enforce its own fetal heartbeat law, banning some abortions at 12 weeks. Both measures had been struck down by a unanimous panel of three judges appointed by President George W. Bush to the St. Louis-based 8th U.S. Circuit Court of Appeals.

"We knew it was unlikely and it came as no surprise," North Dakota Attorney General Wayne Stenehjem said of the high court's refusal to review the case…

The appeals panel judges said the laws were inconsistent with the standard set by the Supreme Court that generally ties abortion restrictions to the viability of the fetus. But they urged the Supreme Court to re-evaluate its abortion cases to take account of changes in medicine and science, and the wishes of elected state lawmakers. The current framework "discounts the legislative branch's recognized interest in protecting unborn children," Judge Bobby Shepherd wrote for the panel, which included Judges William Benton and Lavenski Smith.
We should always be careful not to read too much into a denial of cert. It doesn't mean the court agrees with the lower court ruling, necessarily. It just means they didn't have four votes to hear the case. It could just as easily mean that they want to deal with the case that is already on the docket for later this year. But it's an interesting development.