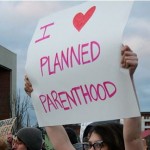 Well this is a very interesting development. The producers of those very dishonestly edited videos purporting to show Planned Parenthood selling fetal tissue have been indicted by a grand jury in Texas. And the best part is, this happened because the prosecutor was asked to investigate Planned Parenthood but the investigation found the other side had violated the law instead.
A Harris County grand jury on Monday indicted the videographers behind undercover recordings of a Planned Parenthood clinic in Houston and cleared the women's health provider of any wrongdoing.

The indictments — part of the county prosecutor's investigation into allegations that Planned Parenthood was illegally selling fetal tissue — include charges against anti-abortion activists David Daleiden and Sandra Merritt for tampering with a governmental record. The grand jury handed down a second charge for Daleiden for "Prohibition of the Purchase and Sale of Human Organs," according to the Harris County District Attorney's office.

The grand jury cleared Planned Parenthood Gulf Coast in Houston of breaking any laws.

State Republican leaders last year pushed for investigations into Planned Parenthood after videos were released depicting Planned Parenthood officials across the nation discussing how their providers obtain fetal tissue for medical research…

Harris County District Attorney Devon Anderson launched a criminal investigation into Planned Parenthood in August at the urging of state leaders, including Republican Lt. Gov. Dan Patrick.

"We were called upon to investigate allegations of criminal conduct by Planned Parenthood Gulf Coast," Anderson said in a statement. "As I stated at the outset of this investigation, we must go where the evidence leads us. All the evidence uncovered in the course of this investigation was presented to the grand jury. I respect their decision on this difficult case."
Well that backfired on them beautifully, didn't it?