The Supreme Court handed down a ruling this week that allows for resentencing for juvenile offenders originally sentenced to life in prison without parole, a ruling that will affect some inmates as old as their 70s. The ruling was 6-3, with Justice Kennedy and Chief Justice Roberts joining the four liberals and Justices Scalia, Thomas and Alito, unsurprisingly, in dissent.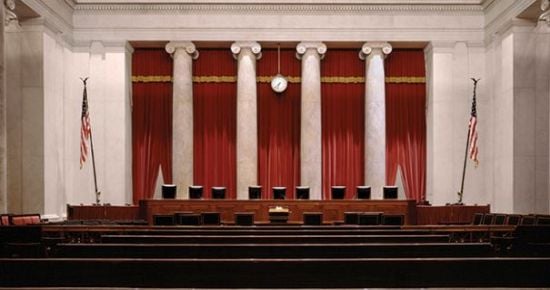 Hundreds of inmates serving life without parole for crimes committed as juveniles in Pennsylvania, Missouri and other states could get a second chance at eventual freedom under a Supreme Court ruling Monday.

In a 6-3 decision that united the court's liberals with two Republican appointees, the court said an earlier ruling that banned mandatory life sentences for juveniles applied retroactively. The ruling means the affected inmates can seek resentencing or parole hearings.

"Life without parole is an excessive sentence for children whose crimes reflect transient immaturity," Justice Anthony Kennedy wrote.

As a result, Kennedy added, "a hearing where 'youth and its attendant characteristics' are considered as sentencing factors is necessary to separate those juveniles who may be sentenced to life without parole from those who may not."…

"Some of these people have already spent years, even decades in prison, they have grown up and matured in prison, contributing to their prison communities, some have mentored younger prisoners, some have earned an education or learned a trade," Katherine Mattes, director of the Tulane Law School Criminal Litigation Clinic, said in a statement…

In the decision, written by Kennedy and joined by Chief Justice John Roberts Jr. along with four Democratic appointees, the court concluded that the requirement set forth in the Miller v. Alabama ruling was more than simply procedural.

"Miller's conclusion that the sentence of life without parole is disproportionate for the vast majority of juvenile offenders raises a grave risk that many are being held in violation of the Constitution," Kennedy wrote.

Kennedy further insisted that the ruling "does not impose an onerous burden on the states," as full-bore resentencing hearings may not be necessary. Instead, he suggested, states could simply institute parole hearings…

Justice Antonin Scalia, writing a dissent joined by Justices Clarence Thomas and Samuel Alito, termed the majority decision "nothing short of astonishing."

"In Godfather fashion, the majority makes state legislatures an offer they can't refuse: Avoid all the utterly impossible nonsense we have prescribed by simply permitting juvenile homicide offenders to be considered for parole," Scalia wrote.
These days, the crotchety old man Scalia thinks every decision that doesn't go his way is "astonishing" and totally inexplicable. One can almost picture him ordering the other justices off his lawn.