John Fea, a well-respected Christian historian from Master's College, has a new column at Religion News documenting that Ted Cruz is a genuine dominionism, specifically an advocate of Seven Mountains Dominionism. He also has a post on his blog introducing the column, in which he points out that we should not use that term as casually as we often do: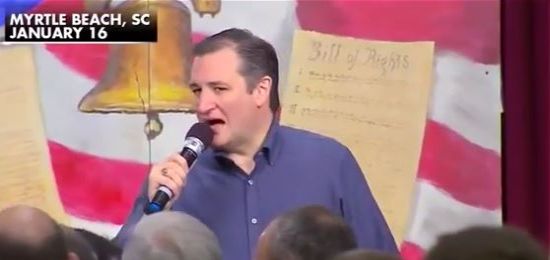 I have always shied away from interpretations of the Christian Right that place too heavy an emphasis on Christian Reconstructionism and dominion theology. I am not sure why that is the case, but I think it has something to do with the way left-leaning journalists and pundits with an axe to grind against conservative Christianity have applied Reconstructionism to the Christian Right in a reductionist way. I am not convinced that every person affiliated with the Christian Right is a disciple of R.J. Rushdoony. Not every Christian who thinks Christianity might be a useful source for making us a better country is a Reconstructionist.

But some of them are. I am not sure if Ted Cruz has ever heard of Rushdoony, but his political rhetoric, and the people he surrounds himself with, certainly place him in the Seven Mountain Dominionist camp.
He's right about this and I've said the same thing before. Too many of my fellow atheists throw those terms around too casually and use them too broadly. Christian Reconstructionism is a specific form of dominionism (note the difference in capitalization, it matters). So, obviously, is Seven Mountains Dominionism. And there's little doubt that Ted Cruz is an advocate of the latter. Fea makes this interesting observation:
Cruz's shoe leather campaign in Iowa targeted the state's large number of evangelical Christians. But not all evangelicals are the same.

Donald Trump appeals mostly to those connected with the Christian prosperity movement, a form of evangelicalism that celebrates the accumulation of wealth as a sign of God's blessing.

Marco Rubio appeals to suburban, educated, middle- and upper-middle-class evangelicals. These evangelicals normally avoid the Pentecostal prayer meetings of the prosperity crowd and change the channel when televangelists show up on their big screens.

Cruz resonates with the evangelical culture warriors. He mixes what New York Times columnist David Brooks describes as political "brutalism" with a belief that he is engaged in a fight with the devil for the soul of the nation. It is only a matter of time before Cruz assumes the role of the Old Testament prophet Elijah and tries to cast down fire from heaven to destroy the "prophets of Baal" who oppose his campaign.

When Cruz says he wants to "reclaim" or "restore" America, he does not only have the Obama administration in mind. This agenda takes him much deeper into the American past. Cruz wants to "restore" the United States to what he believes is its original identity: a Christian nation.
I noted when Trump had his famous meeting of Christian pastors in New York a few months ago that almost all of them were prosperity gospel preachers, which fits perfectly with Trump's only consistent belief in life: Anything to make a buck. I think Fea is right here about the different types of evangelicals that these candidates tend to appeal to (no, fellow atheists, this group is no more monolithic than atheists are; there are even liberal evangelicals, lots of them).
Anyone who has watched Cruz on the stump knows that he often references the important role that his father, traveling evangelist Rafael Cruz, has played in his life. During a 2012 sermon at New Beginnings Church in Bedford, Texas, Rafael Cruz described his son's political campaign as a direct fulfillment of biblical prophecy.

The elder Cruz told the congregation that God would anoint Christian "kings" to preside over an "end-time transfer of wealth" from the wicked to the righteous. After this sermon, Larry Huch, the pastor of New Beginnings, claimed Cruz's recent election to the U.S. Senate was a sign that he was one of these kings.

According to his father and Huch, Ted Cruz is anointed by God to help Christians in their effort to "go to the marketplace and occupy the land … and take dominion" over it. This "end-time transfer of wealth" will relieve Christians of all financial woes, allowing true believers to ascend to a position of political and cultural power in which they can build a Christian civilization. When this Christian nation is in place (or back in place), Jesus will return.

Rafael Cruz and Larry Huch preach a brand of evangelical theology called Seven Mountains Dominionism. They believe Christians must take dominion over seven aspects of culture: family, religion, education, media, entertainment, business and government. The name of the movement comes from Isaiah 2:2: "Now it shall come to pass in the latter days that the Lord's house shall be established on the top of the mountains."

Barton's Christian nationalism is a product of this theological approach to culture. Back in 2011, Barton said that if Christians were going to successfully "take the culture" they would need to control these seven areas. "If you can have those seven areas," Barton told his listeners to his radio show, "you can shape and control whatever takes place in nations, continents and even the world."
As Fea points out, Ted is a bit more careful than his father when speaking on such matters, but there is no doubt that Cruz' ideology is that of Seven Mountains Dominionism. And that makes him very, very dangerous.