When Donald Trump signed that pledge not to run as an independent if he doesn't get the Republican nomination, and again when he announced at the start of one of the debates that he would not do so, I wrote that no one should take him seriously. He can invent any slight to justify breaking that pledge. And here we go: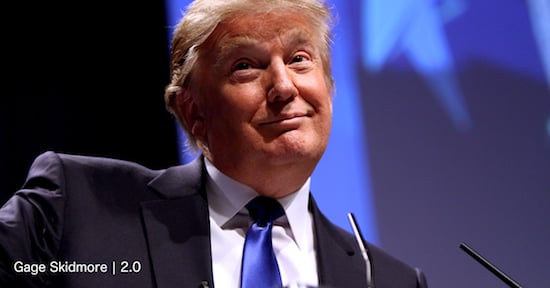 Speaking at a campaign event just outside of Charleston, South Carolina, the billionaire hinted that he may still run an independent campaign for president, despite a pledge he signed last year to stay within the party.

Trump, who was booed at a debate on Saturday, complained that the audience was full of "lobbyists and donors" whom he accused of manipulating his rivals. "Those tickets were all special interest people. I know 'em," he said.

"I signed a pledge but it's a double-edge pledge, and as far as I'm concerned they're in default of the pledge."

A spokesperson for the Republican National Committee told the Guardian: "The language of the pledge is pretty straightforward."

The pledge, he said, "simply states the candidates pledge to run as a Republican and support the nominee. Nothing more and nothing less."…

But Trump declared said "the pledge isn't being honored by them", without elaborating on what the Republican party's obligations would be under the agreement. He said the debate was "a disgrace" and "the RNC does a terrible job".
It's kind of adorable that the RNC thinks the language of the pledge matters to Trump. He'll use any excuse he wants and he doesn't give a damn about that pledge. He'd justify it by claiming that his water glass wasn't filled quickly enough at some Republican dinner if he has to.