I've written a lot about Theodore Shoebat, who gleefully advocates a Christian theocracy that would "slaughter" all gay people, along with non-Christians and virtually everyone else. And I've wondered if his father, fake "ex-terrorist" Walid Shoebat, on whose website he publishes his noxious barbarism, agrees with him. Yep. He starts by lying: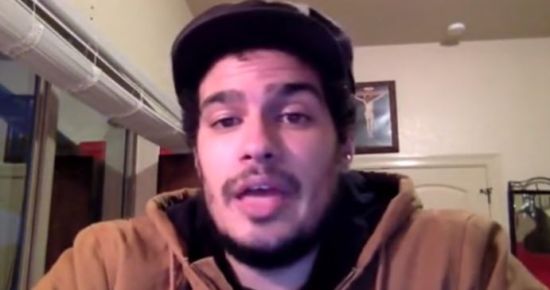 When Shoebat.com posted this video on four homosexual wrestlers who raped two boys calling for a death penalty for these rapists, it upset one blaspheming homosexual and Right Wing Watch. These taunted the Evangelical movement causing an uproar with top level leaders calling on them to denounce Shoebat.com. They quickly lined up to show their support and denounced Shoebat.com for calling for the "death penalty" for gay rapists.

Several Evangelical leaders began hurling denunciations and articles against our infamous Theodore Shoebat for his views calling for the death penalty for rapists and child molesters.

According to these Evangelical leaders, calling for the death penalty for gay rapists, gay child molesters is 'unchristian'. The heavyweights from Calvinist John Piper to Dr. Michael Brown, Peter LaBarbera (1), Matt Barber and others were irate at Theodore's remarks.
Nope. The problem is not that Teddy wants the death penalty for rapists (well, that's a problem too, but it isn't the problem we're discussing here). The problem is that he wants to "slaughter" (his word, not mine) not only all gay people but anyone who advocates that gay people have equal rights:
Many claiming Christians will express their support for the sodomites, and they many times will bring up the "love of Christ" to vindicate their support for them. Let us remind such people that no where [sic] in Scripture is evil tolerated simply because it does not physically or directly harm someone, or because it is private. In fact, Christianity is so much against allowing private deviancy, that it says that those who "approve of those who practice them" are "worthy of death" (Romans 1:32).

This means that opinions expressed in favor for homosexuality and other deviancies (such as cannibalism), are worthy of capital punishment…

Homosexuality needs to be treated as sedition against the people. What is a people? A people, as St. Augustine defines one, is not to mean "any indiscriminate multitude, but an assembly of those united by agreement as to what is right and by a common interest." Therefore, sedition is not just against the government itself, but against the collective and common morals and precepts by which a community is united. As St. Thomas says, "sedition is opposed to justice and the common good." (Aquinas, Summa Theologiae, IIa IIae 64, article 2)

Since homosexuality is against the sacrament of marriage, which is the building block of society, then it is against the common good, and the very Faith of our civilization, and thus is an enemy to the Christian people and should be treated as sedition. Let the heretics who believe in such license read where St. Paul refers to these sodomites as "deserving of death," and also those who "approve of those who practice them" (Romans 1:32), and let them dare say that homosexuality should be allowed in a Christian society…

This is why the sodomites must be rooted out, for such is what God commands, and failure to do so leads only to spiritual, and then ultimately, to societal anarchy.
Dear old dad wants to make this all about gay rapists rather than gay people because he knows that's a more defensible position, but he's lying to do it. This is not the least bit surprising, of course. He continues:
Who controls these leaders? One major gay activist who wraps Evangelical scholars around his finger gives himself the blasphemous title as "Joe My God," so that when they twitter him they would blaspheme calling him "My God" instead of Christ. The trick stems from when Caesar wanted the Christian world to address him as kyrios (My lord) which St. Paul denounced by stating "that every tongue should confess that Jesus Christ is Lord" (Philippians 2:11), that is that Christ is Kyrios not Caesar.

But now, this sodomite blasphemer, Joe, has become their god instead.

To please Joe the Blasphemer they go as far as lining up to denounce the young Shoebat for calling for the death penalty to even twisting arms to scrub and edit out Theodore's contribution in an anti-gay documentary.
This is fascinating. According to these two fascists, you either want gay people murdered or you're in the pocket of the gay agenda. Nothing in between.
Did Jesus kill gays? Nothing was ever said in this silly half-baked article that in the Bible it is as clear as the sun, Jesus killed the sodomites. Most modern theologians intentionally overlook and refuse to disclose that some of the best passages of scripture ever used regarding the Trinity and the Theophany is within the context when Christ completely annihilated the sodomites.

Anyone who denies this ask them: was it Christ Who met with Abraham and announced the destruction of Sodom? In Genesis Abraham is visited by three figures, one of whom he refers to as "My Lord" (Genesis 18:3), and Who Scripture calls "the LORD" (Genesis 18:17).

No sane theologian would argue that this person wasn't Christ.
Yeah, we've entered cloud cuckoo land now.