Unhinged bigot and world-class ignoramus Bryan Fischer will be lending his theocratic extremist appeal to his fellow dominionist Ted Cruz. Fischer will be appearing at at least two Cruz campaign rallies in the state of Mississippi, home of the American Family Association for which he works.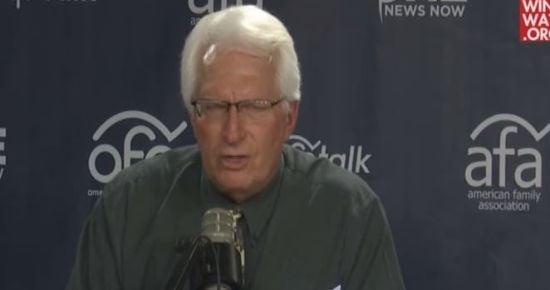 We have noted several times before that there seems to be no activist who is too extreme to be embraced by Ted Cruz's presidential campaign and that continues to be the case as today, the American Family Association's Bryan Fischer announced that he will be joining Cruz at a campaign rally in Mississippi on Monday.

Fischer said on his radio program today that he'll be speaking at a Cruz campaign rally over the weekend which the GOP candidate will not be attending and again at another rally in Ellisville, Mississippi on Monday at which Cruz will be present.
Makes perfect sense to me. Birds of a theocratic feather and all. I hope someone asks Cruz if he believes, as Fischer does, that the First Amendment guarantee of religious freedom applies only to Christians, and if not, why is he welcoming the support of someone who does believe such tyrannical nonsense.