And here we have two more examples of racist American assholes from just a single day. In Miami at the latest Democratic presidential debate, the national anthem was sung by a very talented young Mexican-American and, predictably, the racists came out of the woodwork on social media.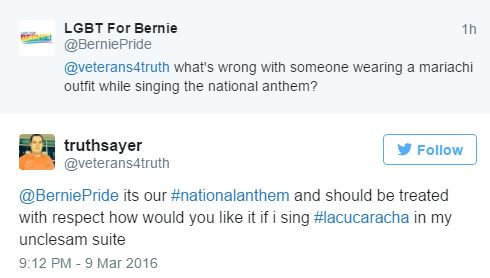 The same thing happened when this young man sang the national anthem before a San Antonio Spurs game a couple years ago. For far too many dumbass Americans, the word "American" really means "white." Others need not apply.
And in entirely related news, a bigoted asshole in Oregon decided to beat the hell out of a Buddhist monk because he was too stupid to know the difference between a Buddhist and a Muslim.
A Buddhist monk was assaulted in Oregon by a man who mistook him for a Muslim, KATU reports.

Kozen Sampson, 66, told the station he was visiting Hood River on Monday when he heard a man yelling at him.

"I pulled over, someone ran up and yelled. I turned around, they kicked the door, hit me in the side of the face and knocked my head into the frame of the car," Sampson told KATU. "I do remember [him yelling] an F bomb [about] Muslims, and that was it."
Sometimes I am truly embarrassed to be an American.