In what has become an almost daily occurrence, we have more violence and threatened violence at Donald Trump rallies. At a rally in North Carolina, a Trump supporter sucker punched a protester as he was being escorted out of the venue by the police. He's now been arrested and charged with assault.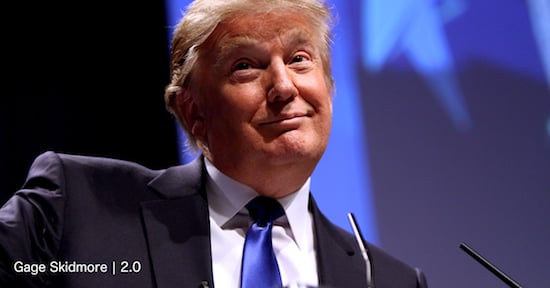 A supporter of Republican presidential candidate Donald Trump who was seen on video sucker-punching a black man in the face at a rally in North Carolina on Wednesday has been charged.

Cell phone video posted online showed a white man in a cowboy hat punching an unsuspecting black man during Trump's rallying in Fayetteville. The victim, later identified as Rakeem Jones, also said that he was targeted with racial slurs.
I wonder if Trump is going to pay for his legal defense, as he has promised repeatedly to his supporters who commit violence against protesters. In the meantime, that violent thug — yes, thug — is following Trump's example of never, ever backing down, saying next time he might have to kill the guy.
John McGraw, the 78-year-old Donald Trump supporter caught attacking a protester, defended his actions in an interview posted by Inside Edition on Thursday.

"He deserved it," McGraw said of the protester, Rakeem Jones. "The next time we see him, we might have to kill him. We don't know who he is. He might be with a terrorist organization."…

But he showed no remorse for his actions in the interview, saying, "You bet I liked it. Knocking the hell out of that big mouth."

The suspect justified the attack by saying, "Number one, we don't know if he's ISIS. We don't know who he is, but we know he's not acting like an American."
I imagine Trump is proud of McGraw, who is his kind of guy — bigoted, violent and totally unapologetic for those things. The only surprise is that he wasn't speaking German.