Bonafide Christian fascist Theodore Shoebat is still beside himself after other anti-gay bigots criticized him for demanding the wholesale slaughter of gay people. After explicitly calling for an inquisition not only to root out gay people but all non-Christians, he now claims that he's the victim of an inquisition.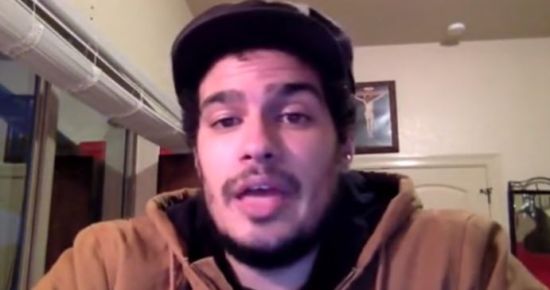 All of these words are filled with fear. LaBarbera is afraid of negative attention from the leftist media. Such behavior is contrary to God, Who is Love, "because perfect love expels all fear." (1 John 4:18) Why should a Christian be afraid or ashamed of the law of God which states that "If a man also lie with mankind, as he lieth with a woman, both of them have committed an abomination: they shall surely be put to death" (Leviticus 20:13)? Why should a Christian be ashamed of the words of the Apostle when he said that homosexuals do things that "are worthy of death" (Romans 1:32)? They will say that such words are against love. But how could a Christian use such argumentation when St. Paul himself says that "the purpose of the commandment is love" (1 Timothy 1:5), and in the same epistle goes on to say that "we know that the law is good if one uses it lawfully, knowing this: that the law is not made for a righteous person, but for the lawless and insubordinate, for the ungodly and for sinners, for the unholy and profane, for murderers of fathers and murderers of mothers, for manslayers, for fornicators, for sodomites" (1 Timothy 1:8-10)?

In Christianity, love and justice and indistinguishable, for all virtues, be it justice, charity or endurance, are in love, for God is Love, and in God is all virtue. So how could such Christians say that I am against love, when the purpose of the law is love, and this very law declares that sodomites are worthy of death?
That last paragraph is simply one of the most bizarre bits of "reasoning" I've ever seen. God is love, which is why he wants us to commit genocide against all gay people. How the fuck does anyone believe shit like that? How is it possible to be that deranged?
Why would a Christian address an evil person with such a blasphemous title as "Joe My God"? It is truly pathetic how these modern Christians get on their hands and knees for these useless sodomites. The sodomites make up such a small part of the population, and yet the Christians, who are supposedly the majority, are terrified of them. Caesar wanted the whole world to address him as kyrios, or lord. And yet you never see any of the early Christians ever address Caesar as kyrios. In fact, St. Paul went directly against this idea when he said "that every tongue should confess that Jesus Christ is Lord" (Philippians 2:11), that is that Christ is Kyrios. Yet this Peter LaBarbera wants to do an inquisition on me, firmly saying "We need to look at the exact comments" and "We need transcripts of the exact comments and then he [Theodore Shoebat] needs to disavow that approach", while at the same time he runs to some sodomite to get his approval. What an absolutely pathetic person.
In the deranged mind of a Christian fascist, being criticized by a fellow Christian is an "inquisition." But calling for the cold-blooded murder of gay people and everyone who isn't sufficiently Christian? That's just good policy.