Fascist cult leader Rev. Sun Myung Moon may be dead, but the Unification Church he founded is still going. And they're still holding their famous mass weddings of people who often don't even know each other. They had a wedding recently that married 15,000 couples in unholy matrimony.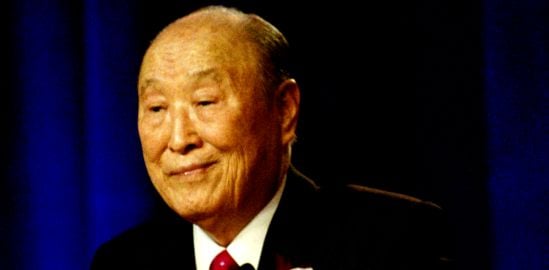 About 3,000 couples from 62 countries tied the knot in South Korea in a mass wedding ceremony conducted by the Unification Church founded by the late Reverend Sun Myung Moon.

A further 12,000 couples worldwide participated in the ceremony via the Internet, said Ryu Kyeung-seuk, president of the South Korean headquarters of the church.

Moon, who died in 2012 at the age of 92, had presided over mass weddings since the early 1960s.

His widow, Hak Ja Han Moon, officiated at the ceremony, which was witnessed by about 22,000 church followers and guests gathered at the church's CheongShim Peace World Centre in Gapyeong northeast of Seoul.

Moon was a lightning rod for controversy and was once jailed in the United States for tax evasion. He also declared in 1992 that he and his wife were messiahs.
Oh, but he isn't the only one to declare them messiahs. So did Jesus. And Muhammad. And Buddha. And Karl Marx. And Thomas Jefferson. Don't believe me? Read it for yourself. It all happened at a ceremony in the "spirit world."